We have come a long way from gaming being a solitary 'best-enjoyed-in-the-dark-whilst-wearing-one's-luckiest-pants' hobby. Now, it's a hugely popular social experience accounting for incredible amounts of web traffic with millions of people not only playing online together, but watching other people play via online streaming services. 
Thanks to video game live streaming services, gamers can now broadcast their play sessions to those that wish to watch them and interact with them too. Live streaming is one of the biggest things happening in gaming right now alongside eSports, so big in fact that some of the most popular streamers are able to make a decent living from it. 
As video game streaming has become more popular, though, the number of services facilitating it has naturally increased. Now there's more than one place you can go to watch and broadcast live video game action. But which is best for you?
We've delved into the features of three of the biggest video game live streaming services (YouTube Gaming, Twitch, and Beam) to weigh up the good and bad points of each to help you choose the one that's best for you, whether you're a streamer or a viewer. 
YouTube Gaming
Pros: Familiar layout, useful DVR functions, can stream directly from Android devices.
Cons: No direct streaming from Xbox One, recently made it harder to become a partner.
What is it?
YouTube Gaming is essentially Google's response to Twitch. It looks and acts a lot like standard YouTube but with a darker color scheme and focuses purely on live and on-demand video game videos. 
There's a wide breadth of game-related videos to explore, ranging from simple soundtrack compilations, to walkthroughs, to cookery channels. 
Is it easy to discover new things?
The home page has Recommended, Spotlight, and Trending sections all of which draw out videos or playlists that aren't live right at that moment but have been uploaded previously. The videos here could be anywhere from a few hours to several weeks old but it's a great way of discovering content you may have missed.
To get the newest stuff as it's happening you simply have to click into the 'Live' tab. Here you'll be able to see the top live videos happening at that moment. It's easy to see when a video is live considering it has a big red 'Live' tag in the bottom right hand corner. 
There are also sections that allow you to explore by game and by channel and they pull out the most popular titles and channels. There is, of course, a search bar to help you find something a little more specific.
Anyone familiar with the ordinary YouTube layout should find YouTube Gaming fairly easy to navigate which, naturally, makes it easier to delve in and find new videos whether they've been uploaded weeks ago or are being broadcast at that moment.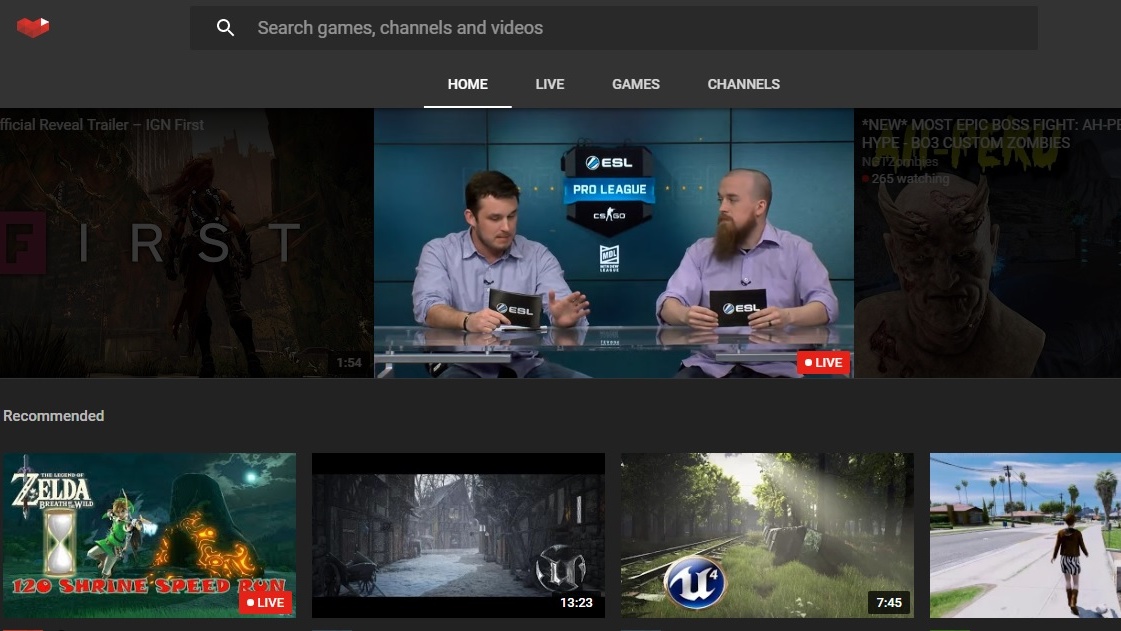 Is it easy to be discovered as a streamer?
A problem creators may face is that user subscriptions on YouTube Gaming are separate from their main account. 
When you subscribe to a channel in YouTube Gaming, it won't be added to your subscriptions on YouTube, so though it's good for viewers in terms of organizing their subscriptions it does mean that as a streamer your subscribers will sometimes miss a lot from your YouTube Gaming account, especially if they're more inclined to watch things on standard YouTube. 
This isn't so much a problem with being discovered as it is a problem with being re-discovered. 
That said, those who have a large following on YouTube will probably find it easier to transfer this audience to YouTube Gaming than Twitch as it's much more familiar and closely aligned.  
In addition, though subscriptions don't cross-over, any content uploaded to YouTube Gaming will also appear in search on standard YouTube but not vice versa which does make it more likely those interested in the content you're uploading are going to be able to find you via search and recommendations.
How's the viewing experience?
YouTube Gaming's player is very similar to YouTube's standard player, pulling up related videos and other videos from the creator you're watching to catch your attention. Rather than underneath the videos, the comments section is to the right of the video which means you can continue watching while you read the comments (something that's obviously essential during live streams). 
In-stream DVR is also useful for viewers as it means they can go back up to 3 hours in a live stream if they show up late to the party. You can also pick the quality you'd like to watch in, which is especially useful if you don't have an internet connection that's up to a high quality stream. 
You can watch on mobile, PC, and on your consoles.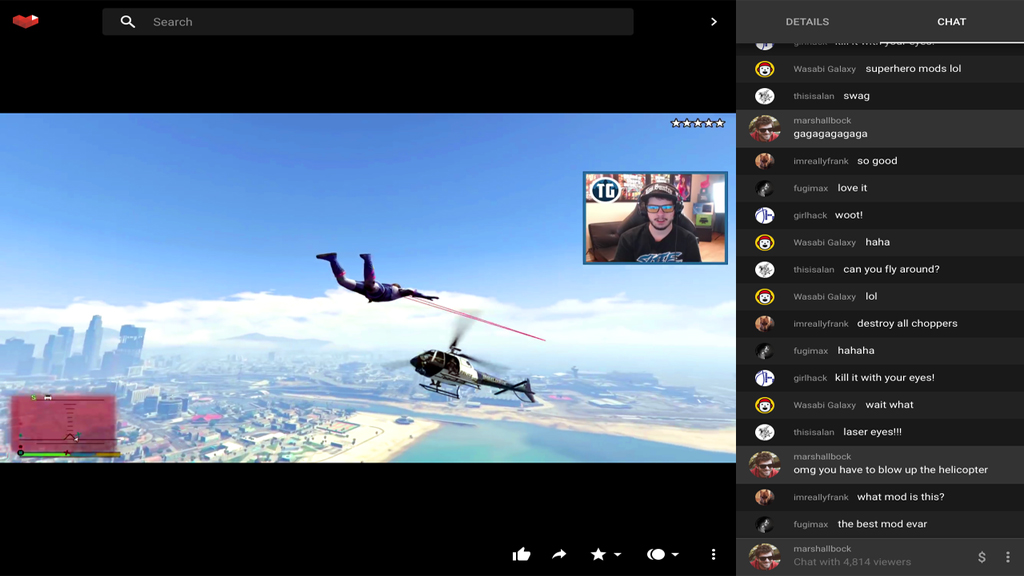 How's the streaming experience?
Streaming on YouTube Gaming is fairly simple and can be done directly through the app on your PlayStation 4 console or on an Android smartphone (this isn't currently possible on iOS devices). Unfortunately, there's no live streaming straight from Xbox One consoles like on Twitch and you'll have to use a capture card for this. 
On PC you'll need an encoder but YouTube has plenty of good suggestions for you. You don't have to worry about frame rates and resolutions – YouTube detects the best stream resolution for you and transcodes to lower resolutions so that no matter what a persons' internet connection is they can access your stream at a quality that suits them. 
What's the community and chat like?
Chat moderation is possible on YouTube Gaming but it's a little less well-developed than on Twitch. You can, however, assign moderators to live chat and block the use of specific words or block specific users from taking part in your chat entirely. 
Of the three services we're comparing YouTube probably has the middle ground in terms of audience size. 
Can I monetize my content?
Once your channel is relatively successful your largest amount of money is likely to come from securing sponsorship deals. You'll find opportunities to partner with big gaming brands and publishers, work with them to make sponsored content whether that's incorporating their products into your videos in some way or having a full video centered around them.
Before you get to this stage, though, you have to start on ad revenue.
It's fairly easy to monetize your content on YouTube from early on thanks to ad revenue. Once you've become a YouTube Partner and your channel has had more than 10,000 lifetime views you're able to start making a small amount of revenue from ads on your videos. 10,000 is a much higher barrier than YouTube Gaming set originally and this has raised the ire of some streamers just starting out. 
Pre, post and mid-video ads will all make you some money, bearing in mind that the more impressions or views the ads get the more money you make, so having more regular viewers will generate more income though it will still be a small amount. 
YouTube has also introduced the ability to add cards to your live videos. This means that when you're live streaming you could have a Fan Funding card appear on the screen. This would allow your fans to donate to donate money to your channel as they watch. Of course, this is really only a good way to monetize if you're already a popular and established content creator.  
Twitch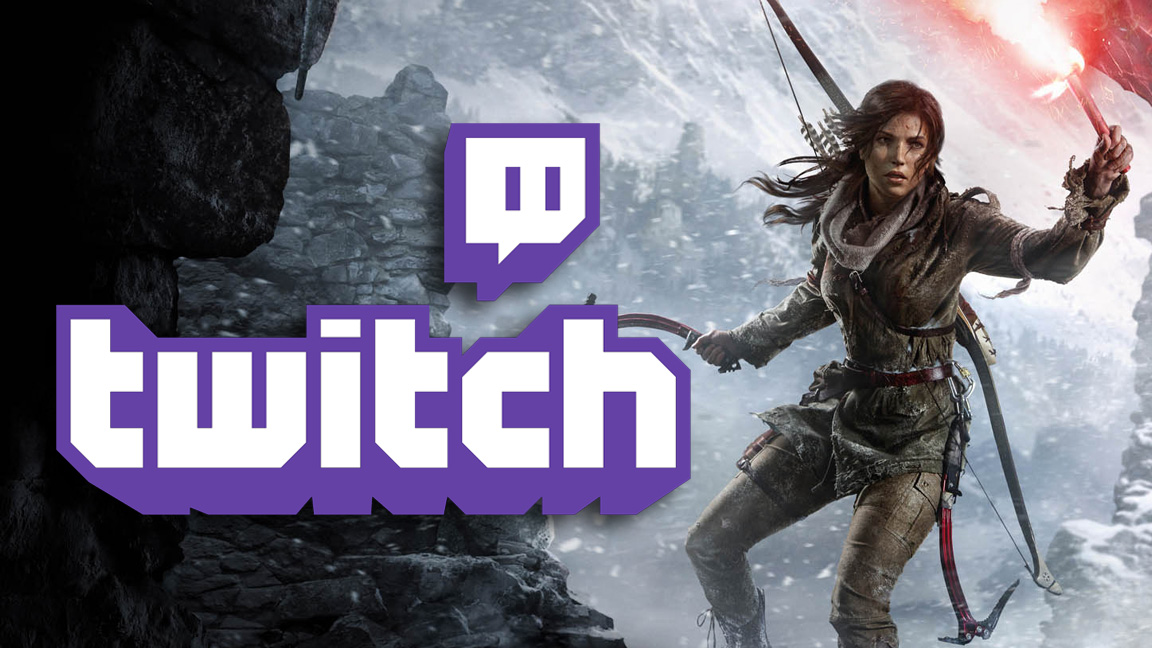 Pros: Large audience means it's easier to grow a following, good chat moderation, bringing in new ways to monetize content, can stream straight from both Xbox One and PS4.
Cons: Can be easy to get lost as a new streamer, no streaming from mobile devices, no DVR.
What is it?
Twitch is the live streaming platform owned by Amazon and it's been around since 2011. It's the biggest and oldest service on here, boasting around 10 million daily active users.  
Here you'll find everything from walkthroughs, to tips and tricks and cosplay tutorials. Most large gaming events and companies have dedicated Twitch channels and you'll find it's the place to watch official events. 
Is it easy to discover new things?
Twitch's UI is fairly neat and it's easy to find your way around the site. Big names are featured at the top of the home page, and you can also find streams broadcasting live at that moment by game, console, and channel. And, of course, there's a search bar if you're looking for something more specific. 
The community is so large and diverse that you're likely to find a new channel every day and perhaps even a new interest/title. 
Is it easy to be discovered as a streamer?
Twitch is a funny one. Being so filled with well-established streamers and newbies it can be hard to get your foot on the first rung and get noticed. However, once you do start building something the potential for growth is much higher than on YouTube Gaming purely because there are so many more people watching and looking for gaming content. 
If you already have an established presence on YouTube, you may find it more rewarding to stream via YouTube Gaming rather than try to move all of your fans over to Twitch. But if you're starting out fresh, Twitch is probably the service with the most potential if you're willing to push hard.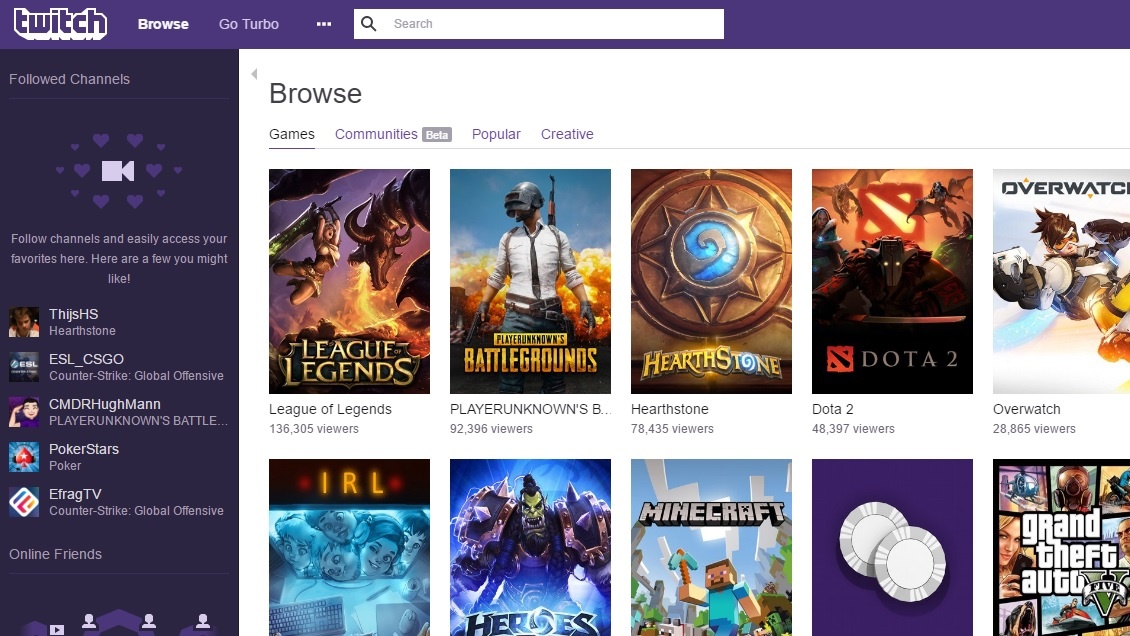 How's the viewing experience?
Twitch offers a good viewing experience and the area around the video player isn't too cluttered – you just have the chat off to the right and you can hide that if it becomes too distracting. 
You can watch on FireTV, on Xbox, PS4, PC and mobile. 
Something that's a nice touch is that the video you're watching is pulled into a smaller window when you decide to explore for something else to watch, meaning you don't have to miss anything from the stream you're currently watching. For some reason this is something YouTube does on its mobile app but not online. You also have control over what quality you watch the video in. 
Something it's lacking, though, is DVR capabilities. Although you can pause a stream you'll still miss things from it as when you play again it jumps straight to the present rather than catching up. If you miss something in a stream you have to wait for it to be archived before you can go back through it. 
How's the streaming experience?
Streaming on Twitch is much the same as on YouTube Gaming. It's possible through console apps and PC. 
Unlike YouTube Gaming, Twitch doesn't yet allow streaming directly from Android or iOS devices but an advantage it does have is that it allows you to stream directly from your Xbox One which YouTube doesn't.
The service is able to tell you how well your internet connection is performing and what quality you're able to stream in and will adjust automatically meaning there's very little for you to worry about other than being entertaining. 
What's the community and chat like?
Chat moderation is pretty good on Twitch. It uses a tool called AutoMod which combines machine learning and natural language processing to identify messages that are inappropriate and will either block them entirely or flag them for later human moderation.  
Streamers are also able to ban specific words links and phrases from appearing in their stream chats as well as employ community moderators or limit chat accessibility to their subscribers. 
Can I monetize my content?
Once your channel is relatively successful your largest amount of money is likely to come from securing sponsorship deals. You'll find opportunities to partner with big gaming brands and publishers, work with them to make sponsored content whether that's incorporating their products into your videos in some way or having a full video centered around them. 
Before you get there, though, you have to start small.
Like YouTube Gaming, Twitch has a partner program that allows streamers to make money from ads. To become a partner you must attract 500 viewers to a broadcast 3 times a week. The ad revenue is generally similar to YouTube Gaming's though the overall revenue of Twitch streamers is generally higher than for those who use YouTube Gaming.
Twitch users who have achieved partner status can also make money from paid subscriptions where users pay to have more access to their favorite streamers. 
The new affiliate program offers an easier way to make money for those just starting out but whose channels look promising. The threshold to access this is much lower and at the moment the money-making opportunity only takes the form of something called Bits to Cheer. 
This allows viewers to pay to offer support in a streamer's chat with the streamer getting a share of the revenue. The affiliate program will expand in future and it looks like Twitch will soon be the streaming site of choice for those hoping to make money from live streaming. 
Beam Pro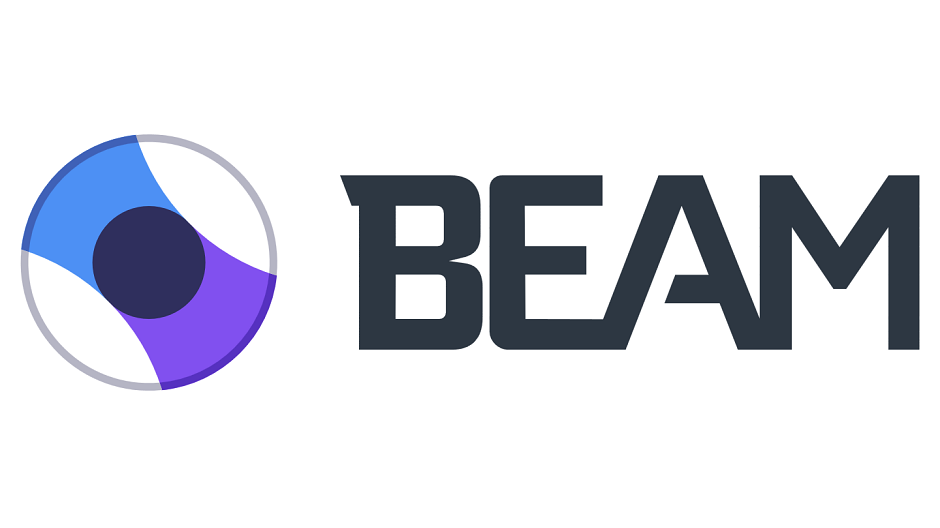 Pros: Creative interactivity features are fun for viewers and streamers, integrated PC and Xbox streaming, low latency means next to no lag for viewers.
Cons: Much smaller audience, no integrated streaming for mobile and PS4, no DVR, can be hard to find non-live content.
What is it?
Beam is the youngest competitor here, having been launched in early 2016 and acquired by Microsoft later that year. 
Like the other services, you'll find live streamed and previously broadcast gaming-focused content but Beam stands apart from the rest by being a much more interactive experience for viewers. It's also the service that's likely to appeal most to Xbox and Windows 10 players as it becomes fully integrated into Microsoft's cross-platform plans. 
Is it easy to discover new things?
Beam's interface isn't drastically different from YouTube Gaming and Twitch. There are featured streamers, streams happening at that moment and you can search by game or by a specific channel. It's much harder, however, to find older content that's been broadcast previously. 
You'll also find the content on Beam is less diverse than on YouTube Gaming and Twitch. Where the other services are large enough that you'll now find more left-field things like Cosplay guides or gaming-inspired cooking channels, Beam is still much more focused on pure livestreaming gameplay. 
Is it easy to be discovered as a streamer?
Compared to Twitch, Beam's audience isn't impressive so you'll probably find it hard to become the world's biggest game streamer if you're only using Beam purely because you're reaching less people. However, a caveat is that being slightly quieter, Beam is a less crowded space for those just starting out and you could build a more solid audience.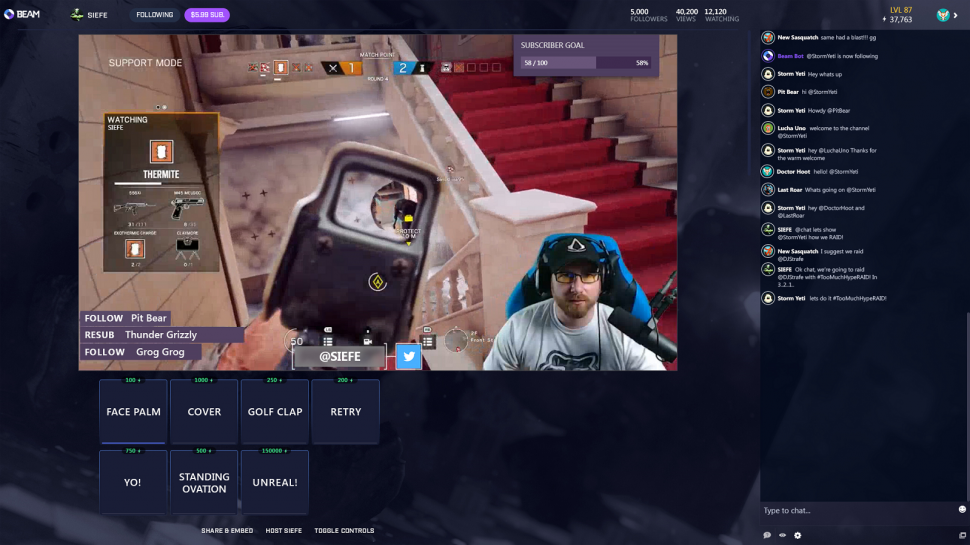 How's the viewing experience?
You can watch Beam streams on Xbox, your PC,  iOS, Android, Kindle, AppleTV, and through Google Chromecast from iOS and Android apps. 
Low latency should mean that you won't experience any delays but if you decide not to watch in low latency you'll also be able to select what quality you want to watch the stream in.
Being a viewer on Beam is a much more interactive experience than with other services. This interactivity ranges from bringing sound effects into the game or voting on what actions the player should take or what weapons they should use. Interaction is rewarded and further interaction options can be unlocked.
There's no DVR functionality like YouTube Gaming for live streams but you can access previous broadcasts like on Twitch, it's just not as easy. 
How's the streaming experience?
Beam has a distinct advantage for PC owners in that it doesn't require any third party broadcasting software or a capture card. Like the Twitch and YouTube apps for console, you just click a button to get started. It also works with popular third-party broadcasting apps such as OBS and XSplit, though, for those that prefer those services. 
This is the same for Xbox One owners, though there's no app available for streaming through your mobile device or PS4 console just yet. Considering Beam is a Microsoft service, it's unlikely that we'll see PS4 integration any time soon.  
Beam is also extremely low latency, meaning that interaction between streamers and viewers is almost instantaneous. This is particularly important because one of Beam's big USPs is a higher level interactivity between streamers and viewers than any other service. According to Beam itself there's only ever under one second of delay.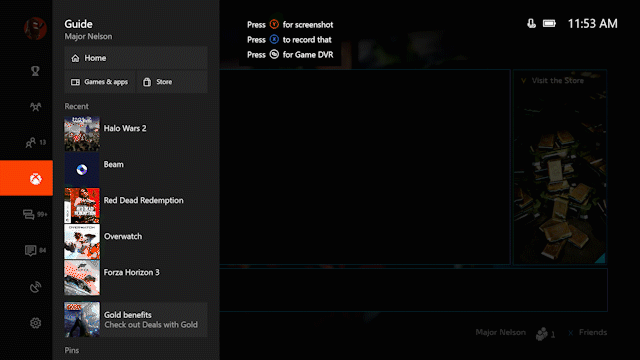 What's the community and chat like?
Beam's chat is much more interactive than the chats of YouTube Gaming or Twitch and it's extremely fast. However, its moderation is fairly limited. Like YouTube it allows for user banning and reporting and users can also use moderation bots to keep an eye on the language used in their chats though Microsoft has said it plans to introduce ways to help streamers build a moderation staff for their channel. 
Can I monetize my content?
Once your channel is relatively successful your largest amount of money is likely to come from securing sponsorship deals. You'll find opportunities to partner with big gaming brands and publishers, work with them to make sponsored content whether that's incorporating their products into your videos in some way or having a full video centered around them. 
At its current scale, sponsors may be less inclined towards Beam streamers for sponsorship as the audience is smaller, but this could easily change. 
When you're starting at the bottom, though, monetizing on Beam is very similar to YouTube Gaming and Twitch. It involves becoming a partner, and to become a partner you must be streaming consistently (around 3 to 5 times per week), use interactivity and have more than 300 followers with a viewer count consistently above 30. 
Once you become a partner you'll then receive a portion of subscription and ad revenue. Less users does, of course, mean that the amounts you'll get from this will be less than those you'd get from other sites. Compared to the other services, there's also a much lower barrier to entry – that's an opportunity to reap the benefits of the service before the masses join in. 
This is the best free screen recorder you can get