Mechanical keyboards are all the rage with gamers nowadays, and it is easy to see why. Not only are they usually solidly built, but they provide a satisfying typing and clicking experience — arguably better than cheaper membrane variants.
Today, CORSAIR launches a new tenkeyless (no number pad) mechanical keyboard, called K63. This product features CHERRY MX Red switches and is quite affordable. It even has both dedicated media and volume buttons, plus a Windows Start button lock — no more accidentally clicking "Windows" and exiting a game. Best of all? It is available now!
"Continuing the CORSAIR legacy of top-quality, high-performance gaming keyboards, the K63 combines tenkeyless design, precision CHERRY MX Red mechanical keyswitches, a full complement of media keys and per-key red LED illumination. What's more, K63 offers all this at a price that puts mechanical performance within reach of gamers wanting to step up their game to the next level. The result is a perfect combination of mechanical precision, advanced gaming features and a space-saving design that makes it ideal for compact desktops or gamers on-the-go," says Corsair.
ALSO READ: AMD Ryzen 5 CPUs will disrupt the midrange next month
The company further explains, "Packing the best of CORSAIR keyboards into a new compact size, the K63 boasts a host of features ready to match the most demanding games. Beneath its sleek exterior and gold-contact CHERRY MX Red key switches, per-key red LED backlighting vibrantly illuminates each key. With the power of CORSAIR Utility Engine (CUE) software, every key's lighting can be controlled individually, allowing for virtually unlimited lighting customization and control. CUE software also allows for near endless programmability, with every key individually reprogrammable with alternative commands, custom macros or dynamic lighting effects."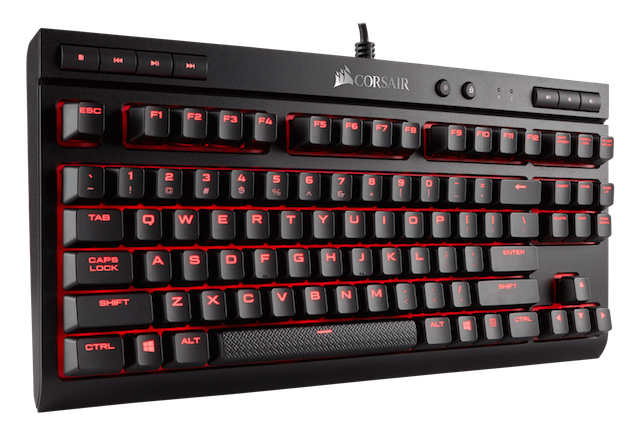 Corsair shares the following features of the Tenkeyless K63 Mechanical Gaming Keyboard.
100 percent CHERRY MX Red mechanical keyswitches: Gold-contact CHERRY MX mechanical gaming keyswitches deliver the ultimate performance and competitive advantage.
Per-key red LED backlighting and large font keycaps: Brilliant red LED backlighting enhances the experience with dynamic and virtually unlimited lighting adjustability.
Compact, tenkeyless design: Great for travel, and you'll have more room for your mouse.
Dedicated volume and multimedia controls: Control to adjust media on-the-fly, without interrupting your game.
100 percent Anti-ghosting with full key rollover: No matter how fast your in-game actions are, your keystrokes always register the way you intended.
The power of CUE: Fully programmable with CUE to assign macros to any key and create dynamic lighting effects.
Windows Key Lock mode: Stay focused and prevent accidental Windows and Context Menu key presses.
If you are interested in purchasing this cool-looking compact mechanical keyboard, the K63 can be yours for a very reasonable $79.99. While it will eventually be available at various retailers, you can buy it immediately from Corsair directly here now.