All RAM is the same, right? No way, José! Not only must you choose between DDR3 and DDR4-based memory depending on your build, but you also must consider capacity and timings. Don't forget brand, either — choosing a no-name company for your memory needs can result in poor performance and stability — stick to the well-known companies, folks.
My absolute favorite brand of memory is G.SKILL. Not only does the company offer high-quality RAM with excellent compatibility at reasonable prices, but it also offers a great warranty. Today, it reveals a really cool new line of DDR4 RAM — Trident Z RGB. As the name suggests, yes, these sticks light up. And yes, that matters — some people take pride in their PC build's appearance.
"By default, the Trident Z RGB will display a rainbow of colors in a wave-style lighting effect, illuminating any system with a myriad of hues. Further lighting effects and color customizations can be controlled and chosen through software, scheduled for a February 2017 release", says G.SKILL.
The company further says, "designed with a custom 10-layer PCB and hand-picked IC chips to enhance overclocking performance, the Trident Z RGB series is capable of reaching speeds of DDR4-4266MHz. Trident Z RGB series memory kits are rigorously tested under proprietary G.SKILL test methods for reliability and compatibility to ensure the highest possible quality. And like all other G.SKILL memory, the Trident Z RGB is covered under a limited lifetime warranty, as well as full support for XMP 2.0 for easy overclocking and simple BIOS setup".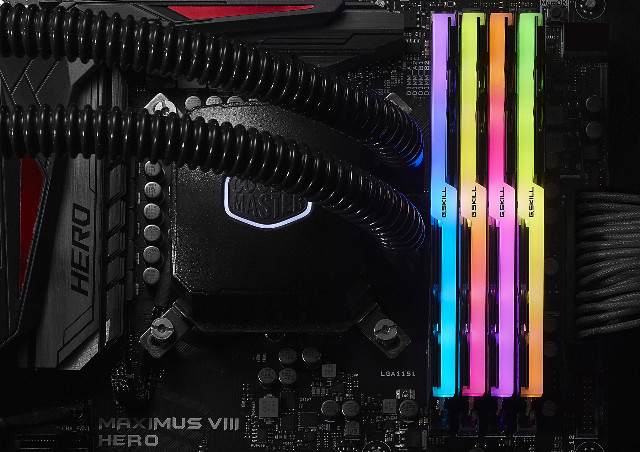 If you are interested in buying these glowing RAM sticks, you can do so next month. Unfortunately, G.SKILL has not yet revealed pricing or capacities. Keep in mind, even though the memory goes on sale in January, the software to customize the RGB lighting will not be available until February at the earliest.
Will you buy these illuminated sticks? Tell me in the comments below.