With PC gaming still hugely popular, more and more companies are looking to create their own peripherals. As a result, there are countless mechanical keyboards on the market nowadays. I recently reviewed the Logitech G413 which offers amazing value.
Today, popular memory-maker G.SKILL unveils its latest mechanical keyboard — the RIPJAWS KM560 MX. As the name suggests, it uses Cherry MX switches, and consumers can choose between red, blue, and brown. It is very similar to the company's KM570 model with one big exception — it is tenkeyless. This means it is lacking the numberpad that is found on most keyboards. In fact, G.SKILL says this will save about 8cm, making it a good choice for those that need desk space.
"Equipped with only high grade materials, the KM560 MX uses highly renowned German-made Cherry MX keyswitches that guarantee over 50 million keystrokes with the same tactile feedback. Each keyswitch is lit with red colored LEDs to illuminate the keyboard, making typing easier in the dark, and can be switched off or set to a breathing lighting effect with a simple combination keystroke, as well as the ability to set the lighting effect speed and control LED brightness. The KM560 MX series will be available in popular flavors of Cherry MX Red, Brown, and Blue," says G.SKILL.
The company also says, "Fused with a 32-bit ARM processor, n-key rollover matrix and anti-ghosting technology, the KM560 MX makes sure all actions, when engaged, activate precisely and accurately. The ARM processor also allows the keyboard to be fully programmable with the macro you need through the on-the-fly macro recording function. Through function combo hotkeys (Fn-keys), media playback and system volume can be easily controlled directly from the keyboard. Additionally, Windows applications can be opened and Win-key lock can be enabled directly from the built-in function hotkeys, allowing easy access from the keyboard."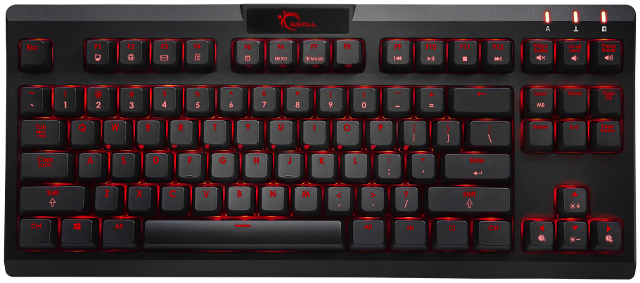 The G.SKILL RIPJAWS KM560 MX tenkeyless mechanical gaming keyboard can be had today — if you live in Asia. Strangely, the product won't reach the USA until Q4 of 2017, meaning October at the earliest. This is a very curious decision, but oh well — them's the breaks, folks. Pricing in the States will be revealed at that time.