In a video on YouTube, which has since been hastily removed, Hewlett Packard Enterprise (HPE) opened the can a little early on announcing a new dual socket AMD EPYC based system in a 2U form factor. As pointed out over at ServeTheHome, this is an important metric in the EPYC story: it is one of the first machines from a top 3 server equipment manufacturer.
Before the video was removed, it showed a dual-socket design with a full set of memory slots (that's 32x, supporting a total of 4TB). Leveraging the 128 PCIe lanes that the configuration would bring, the DL385 Gen10 showed support for up to 24 NVMe drives (or 30 2.5" SATA SSDs) as well as either three double-wide GPUs or five single-slot GPUs. The aim for such a server seems to be a crossover between storage and compute, or the ability to maintain constant compute throughput with plenty of memory and fast local storage, such as large datasets for AI or deep learning network training. Redundant power supplies and HPE iLO management are also featured.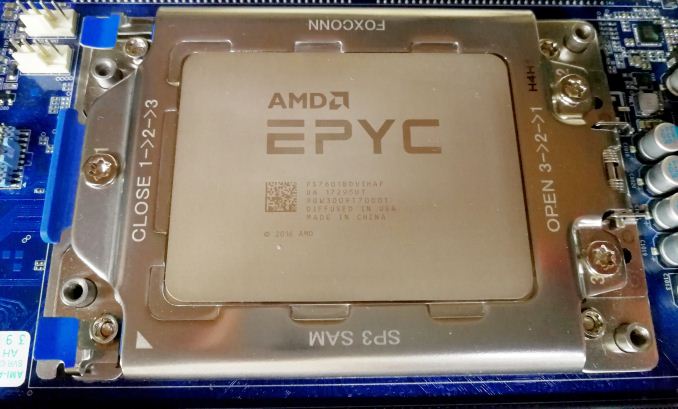 In AMD's press release for this week's Supercomputing 17 event, HPE was listed as one of the vendors now ready to start offering availability of EPYC-based systems, now that the major cloud and hosting providers are getting to grips with the technology. HPE VP and GM, Justin Hotard, was quoted in AMD's press release, saying that 'AMD delivers the power … to help break barriers', but no official or specific products were mentioned in the quote given to AMD. Along those lines, we would expect HPE to have its own announcement, probably this week as it is SuperComputing, although posting/deposting a video says a lot.
We suspect that when HPE pull the proper trigger on the launch, the video will be re-enabled and data sheets will start flowing. We will report when it happens, but here's the video embed in case it comes online soon.
Related Reading
SC17: AMD Announces Wider EPYC Availability and ROCm 1.7 with TensorFlow Support
Sizing Up Servers: Intel's Skylake-SP Xeon versus AMD's EPYC 7000
TYAN Announces AMD EPYC TN70A-B8026 Server: 1P, 16 DIMMs, 26 SSDs, OCuLink
AMD's Future in Servers: New 7000-Series CPUs Launched and EPYC Analysis