Everybody deserves a quality wireless router in their home, but understandably, not everyone can afford the latest and greatest. If you opt for a no-name budget offering, you may be in for a world of pain — dropped connections and needed reboots. Luckily, there are plenty of affordable routers from reputable manufacturers that can get the job done. Sure, they may not be loaded with features, but they can be dependable.
One brand that you can often depend on for quality routers is Linksys. Its best models can be a bit expensive, but they are well worth the money. Today, the company launches a new 802.11ac wireless router that has high end features, such as tri-band wireless and MU-MIMO, but doesn't break the bank. Called "Max-Stream EA8300," it has a rather unique feature — Amazon Alexa support!
"The Linksys Max-Stream EA8300 is an AC2200 Tri-Band MU-MIMO router priced under $200, giving users MU-MIMO technology and up to double the performance of a dual-band router for even faster speeds for downloading, streaming, gaming and surfing. Offering MU-MIMO (Multi-User, Multiple-Input, Multiple Output), the next generation Wi-Fi 802.11ac Wave 2 technology, helps improve overall performance and efficiency of a Wi-Fi network while providing dedicated bandwidth to MU-MIMO capable client devices as if they have their own dedicated router," says Linksys.
Justin Doucette, senior director of product management at Linksys says, "The introduction of the EA8300 Tri-Band MU-MIMO router to our Max-Stream line-up signifies our commitment to the latest 802.11ac specification. With the rise of bandwidth intensive activities, such as 4K streaming and movie downloads, the importance of an efficient and optimized Wi-Fi network is more critical than ever. Tri-Band and MU-MIMO enables multiple devices to communicate with the router and/or range extender simultaneously, so the result is a faster and more reliable Wi-Fi."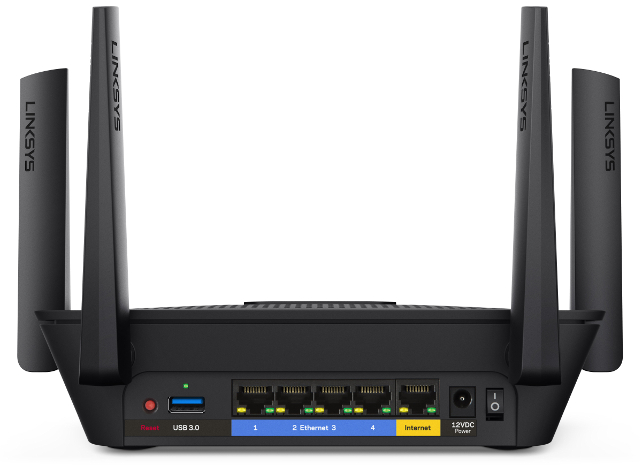 Linksys shares the following features and specifications.
Tri-Band AC2200 – Up to 2.2Gbps (867 Mbps 5Ghz + 867 Mbps 5 GHz + 400 Mbps 2.4 GHz)
MU-MIMO Wave 2 for simultaneous 4K Streaming on multiple devices at the same time
Powerful system processor: Quad-Core 716Mhz Processor (Equal to 1.4Ghz Dual-Core Processor) 32-bit, ARMv7 compatible, 5.5K DMIPS
RAM: 256MB DDR3
Flash memory: 256MB
Four active high performance antennas with 6x High Power Amplifiers to provide the best performance and coverage
Five Gigabit Ethernet Ports (4 LAN + 1 WAN)
USB 3.0 Port – connecting shared network storage devices as well as a range of other peripherals.
Linksys Advanced Beamforming technology- Maximizes Wi-Fi coverage for both 2.4 and 5GHz radios while enhancing the performance and coverage
Airtime Fairness enables faster devices to transmit at faster speeds while the slower device will not impede the speed of Wi-Fi network
"Smart Connect" band steering- balances your 5 GHz Wi-Fi connections and intelligently choose the best radio band for your devices for the best Wi-Fi performance of your network
Seamless Roaming with Max Stream Range Extenders provide Room-to-Room Wi-Fi with one network name
Linksys App – Remote Manage, monitor, and control your Wi-Fi network from anywhere, anytime
Linksys AUTO Firmware update- Linksys automatically pushes the software update to your router overnight and seamlessly bring the latest features and security to your home network
Amazon Alexa support- Three new skills including turning guest access on and off, obtaining guest Wi-Fi credentials, as well as getting main network credentials read back to the user.
SPI Firewall and DoS Protection provide the best in class network security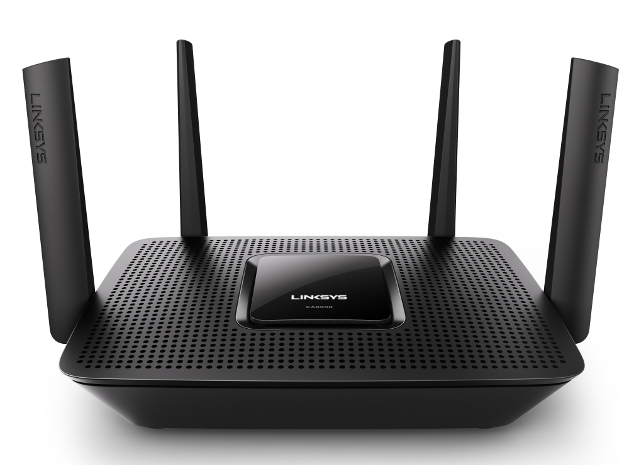 This seemingly quality router from Linksys is surprisingly affordable for all that you get. Seriously, folks, $200 is very reasonable. Best of all, it is available immediately from Linksys directly, or from Amazon. It can be had on BestBuy.com in a couple of days, with larger availability coming next month.
Are you in the market for a new router? Will you buy the Linksys Max-Stream EA8300 AC2200 Tri-Band 802.11ac MU-MIMO wireless router? Tell me in the comments below.