A multiport USB charger is great when you need to charge a couple of smartphones and tablets at the same time. It supports a wide range of devices, cuts down on the number of sockets that you use and is usually small enough so you can take it with you on a trip. Over the years, I've become a bit of a fan.
There are many options to choose from and Tronsmart's W2TF is certainly among the most interesting as it strikes a nice balance between functionality and portability.
Let's talk about functionality first. Tronsmart has equipped the W2TF with two Quick Charge 3.0 ports. That means that you can charge pretty any flagship smartphone on the market today at full speed (save for the new crop of Quick Charge 4.0 devices, which will be out throughout the year).
In terms of portability, it is compact and light enough that you can take it with you pretty much anywhere. The plug cannot be changed though, which may be a downside depending on which countries you plan to visit. Personally, I don't mind the lack of flexibility here.
(The version that I've been testing has the EU plug, but Tronsmart also offers versions of the W2TF with the UK and US plugs, so you should be able to find a model that works in your country.)
How does it work? Well, I've been using the W2TF for about a month and during that time I have had absolutely no issues with it. I've tested it with a 2013 Google Nexus 7, Samsung Galaxy S5 and a Galaxy S7 edge, used it to power a wireless charger too, and it worked fine every single time.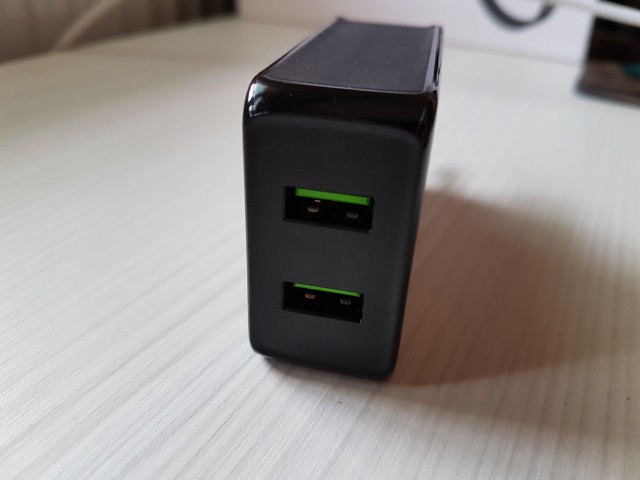 The W2TF may be designed with Quick Charge 3.0 devices in mind, but it is also backwards-compatible with Quick Charge 2.0 and Quick Charge devices. And it supports non-Quick Charge smartphones and tablets, like the iPhone and iPad, too. You will need to bring your own cable, but, other than that, you will be ready to go right away.
How much does it cost? Tronsmart sells the W2TF through Amazon, where's it's available for $19.99. It comes with an 18-month warranty. If you like the features, get it, because it's a really nice option. (Click the link above if you want to get it from Amazon Canada, Spain, France or UK or Geekbuying.)