To prove that it's serious about becoming a major player in the virtual reality market, at the today's Unpacked event which saw the unveiling of the Galaxy S8 and Galaxy S8+, Samsung introduced a new Gear VR headset and Gear 360 camera.
Samsung changed the port on the Galaxy S8 and Galaxy S8+, opting for USB Type-C this time round, which meant that it also had to introduce a new Gear VR headset to work with the latest flagships. Meanwhile, the new Gear 360 is promised to be more refined and easier to use.
Both devices are designed to tie in with its new VR platform, that offers "over 8,000 videos and 2,000 premium experience" at launch. The Gear 360 camera is designed to help users create new content, while the latest Gear VR is there to help them experience it on the Galaxy S8 and Galaxy S8+.
Of the two, the Gear 360 is probably the most interesting. It can record 360-degree video in 4K, uses 8.4MP sensor, f/2.2 fisheye lenses, and lets you share content right away on services like Facebook and Samsung VR.
It's compatible with a slew of smartphones, from both Samsung and Apple, and Windows PCs and Macs. On the Android side you need Lollipop or newer, while iOS 10 is the minimum when it comes to iPhones.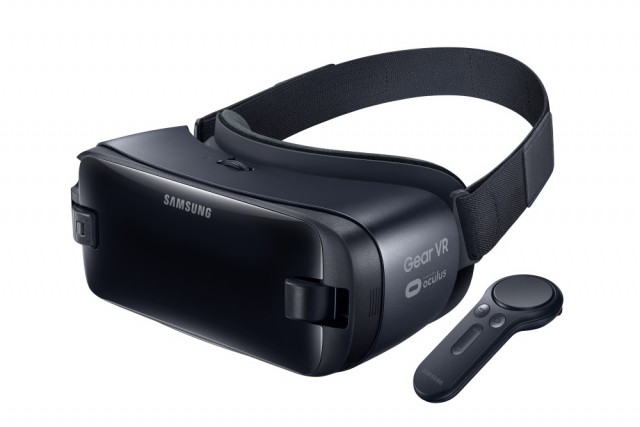 Gear VR, meanwhile, has a niche focus, being designed only for this year's Galaxy S models. But it does have a neat trick up its sleeve, which is a small controller that lets you control the headset more easily.