In less than 24 hours, Samsung will take the wraps off the much-awaited Galaxy S8. The South Korean maker is expected to announce two models, one featuring a 5.8-inch screen and a larger 6.2-inch version, and make them available to pre-order shortly after — what we don't know exactly is when.
Rumors suggest that the Galaxy S8 will actually be offered for pre-order on launch day, at least in some markets, which would make sense given the fact that Samsung did the same thing last year with the Galaxy S7 and Galaxy S7 edge. Well, this is now officially confirmed by a European carrier.
Vodafone Romania has announced that its customers will be able to pre-order the Galaxy S8 starting March 29 at 7pm local time through its online and brick and mortar stores. There is no word yet on the models that it will carry or how much they will cost.
Vodafone Romania is reliable when it comes to providing pre-order information, based on my experience, so there is no reason to suspect that the carrier has the date wrong. It is, however, unusual for it to reveal this kind of information before the manufacturer gets the chance to announce the device in question.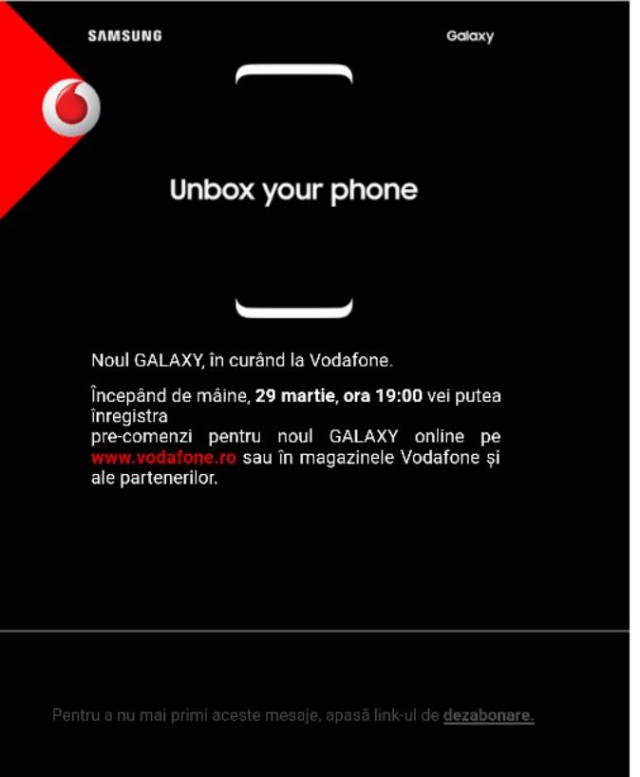 My colleague Brian Fagioli will be at the launch event in New York, so if you want to learn more about the Galaxy S8 you should keep an eye on the website for any new developments. The keynote starts at 11am EST (4pm BST).