Today is Christmas, and I hope you got all the gifts you desired. True, the holiday is not all about getting presents, but it is still a fun aspect nonetheless.
Understandably, not everyone will get the things they want — that's a fact of life. If you wanted an Xbox One S, for example, and didn't get it, you may be sad. Luckily, Microsoft is offering an amazing deal that may make buying your own much better. If you buy the game console before the end of 2016, you will get a free gift!
"The holidays aren't quite over yet, and we're excited to offer yet another promotion for your last-minute shopping needs. From Dec. 25 through Dec. 31, when you buy any new Xbox One or Xbox One S console, you'll get an additional gift at no extra cost. The offer will be available at most major retailers in the U.S., and each gift will vary. See below for the gift options that are available with your Xbox One or Xbox One S purchase", says Larry Hryb (aka major Nelson), Director of Programming for Xbox Live, Microsoft.
Hryb further shares, "most participating retailers are also offering a special online-only deal for a $50 gift card in addition to a gift, so be sure to visit your favorite retailer before the end of the year".
"Major Nelson" lists the free gifts with the associated retailers below.
For console purchases at Best Buy, Amazon or Walmart.com, get a free Xbox Wireless Controller
For console purchases at GameStop, get a free Xbox Stereo Headset in white or black
For console purchases at Microsoft Stores or Target build your gaming collection with a free game of your choice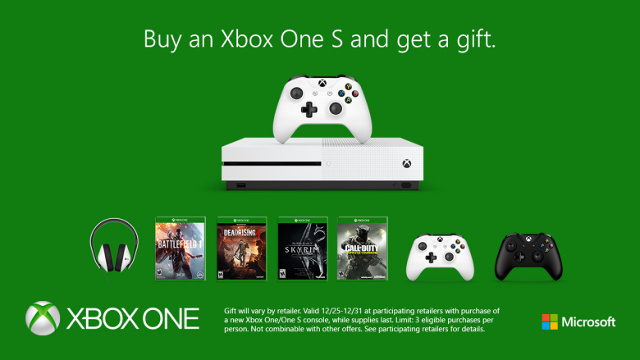 Which gift is better is subject, so you will have to make that call. If you do not play with friends or family in your home, a second controller might be a waste. The stereo headset is cool, but only if you play online against other players where voice chat is supported. Without a doubt, the free game will make the most sense if you do not yet have any titles.
Which gift will you choose? Tell me in the comments.
Photo Credit: Eugenio Marongiu/Shutterstock