Sharkoon has introduced a DIY kit that lets users build their own external storage devices with the USB 3.1 Type-C interface. The kit is not expensive and resembles similar devices from other makers: it contains an enclosure for a drive as well as a USB 3.1 Type-C cable. The key element here is Type-C, although as with many devices of a similar nature, the 10 Gbps is limited by the chipset to 8 Gbps, and then further by the SATA protocol.
The Sharkoon Rapid-Case 2.5" USB 3.1 Type-C is a sleek enclosure (132×80×14 mm) made of black or silver brushed aluminum that can house a 2.5"/9.5 mm storage device and has a USB 3.1 Type-C header. The chassis weighs 83 grams and when populated with an HDD, its weight will increase to something like 170 ~ 230 grams depending on the drive used. The only thing that owners need to do to use the device is to install an appropriate pre-formatted HDD or SSD inside.
The chassis contains ASMedia's ASM1142 PCIe-to-USB 3.1 Gen 2 bridge as well as ASMedia's ASM1351 USB-to-SATA bridge. The ASM1142 is a PCIe 3.0 x1 chip supporting a maximum bandwidth of up to 8 Gbps, which is below 10 Gbps specified by the USB 3.1 Gen 2 standard, but since this chip is used on loads of USB 3.1 Gen 2-supporting motherboards, this is not really a limitation for the Sharkoon Rapid-Case. Meanwhile, the USB-to-SATA bridge not only downs physical bandwidth to 6 Gbps, but it further reduces it by the overhead introduced by SATAS's 8b/10b encoding. In the end, even if the Sharkoon Rapid-Case is populated by a high-end SSD, performance of the latter will be limited by SATA, not USB 3.1 Gen 2. In fact, this is the case with a lot of USB 3.1 Type-C storage devices: while they formally support 10 Gbps data rate, they use SATA drives inside with a maximum throughput of 6 Gbps (which is still higher than what you get from USB 3.0-supporting devices at 5 Gbps).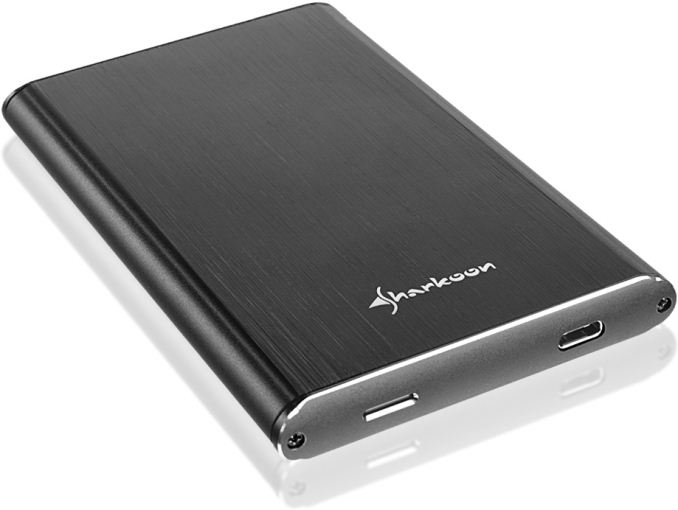 Despite the fact that right now not a lot of external storage devices (factory-made or DIY) can take advantage of USB 3.1 Gen 2's 10 Gbps data rate, it is important that such devices make it to the market in general. Nowadays many new PCs feature USB Type-C ports and it is important to build up an ecosystem of devices with this interface. Furthermore, if you need a lot of storage space, you are going to use a 2.5″ HDD that has a maximum media to host transfer rate of less than ~200 MB/s and thus not requiring even 5 Gbps of USB 3.0.
The Sharkoon Rapid-Case 2.5″ USB 3.1 Type-C is available from select retailers in Europe for the suggested retail price of €24.99.
Gallery: Sharkoon Launches Rapid-Case USB 3.1 Type-C Storage Device DIY Kit






Related Reading:
Plextor Launches EX1 USB-C External SSD: Up to 550 MBps, 512 GB and LDPC
G-Technology G-DRIVE slim SSD USB-C 500GB External SSD Capsule Review
SanDisk Unveils New Generation of USB Type-C Flash Drives
Samsung Portable SSD T3 Review