USB-C is lighting the world on fire. While Apple was not the first company to embrace the standard, its MacBook Pro is definitely a driving force in its increased popularity. There is a huge market nowadays for USB-C hubs and dongles. Heck, I just wrote about an all-new USB-C Digital AV Multiport Adapter from SCOSCHE.
Today, StarTech launches the USB-C Multi-Card Reader. This dongle is strictly for card-reading, offering compatibility with SD, micro SD, and CompactFlash. Many all-in-one Type-C dongles offer compatibility with SD and its micro variant, but CF is more of a rarity. StarTech is clearly targeting professional photographers, many of which still use CompactFlash.
"The new multi-card reader provides users with a convenient and flexible way to access, swap, back-up and archive data, images and videos. The card reader is ideal for creative professionals, photographers, videographers, designers, and anyone who uses SD, microSD or CompactFlash cards in their daily workflow. With its small size, the new card reader is exceptionally compact and portable, giving creative professionals who are on the go instant access to their files. Users can quickly upload their files to any USB-C enabled laptop, tablet or smartphone," says StarTech.
ALSO READ: Satechi USB-C Power Meter protects MacBook Pro and other devices from charging damage
The company shares the following features/benefits of the Multi-Card Reader.
Supports USB 3.0 data transfer speeds up to 5Gbps (USB powered)
Thunderbolt 3 USB-C port compatible
Compact, portable design with stylish brushed-aluminum housing
Backward compatible with USB 2.0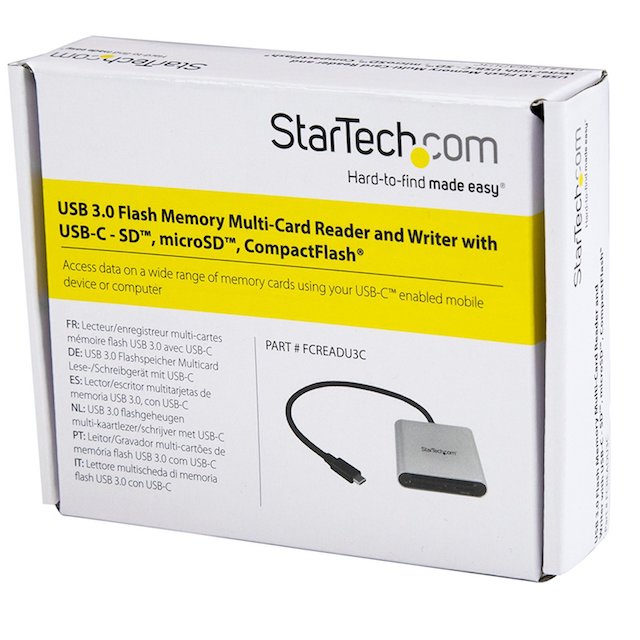 If you want to purchase the StarTech USB-C Multi-Card Reader, you can get it now. It has an MSRP of $39.99. With that said, at the time of this writing, I found it on Amazon for $28.15 here. The company says it can also be had from retailers like Newegg, CDW, and its own online store.