When you are a PC gamer that seemingly already owns everything for gaming, what is left to buy? Besides your hardcore gaming rig, you probably already have a mechanical keyboard, mouse, and headset, right? Heck, you may even have a fancy mousepad. But does your pad even glow, bro?
Today, SteelSeries launches the QcK Prism dual-surface RGB illuminated premium gaming mousepad. Yeah, it is a gaming mousepad that glows thanks to RGB lighting. While not the first RGB mousepad, SteelSeries says it is the first-ever dual-sided variant. You see, one side is cloth, while the other is hard plastic.
"The QcK Prism is the world's first dual-surface RGB illuminated mousepad, featuring a premium micro-textured cloth that adds friction for more deliberate movements and a hard polymer surface for a fast-paced glide. The QcK Prism comes with brilliant 360-degree, 12-zone Prism RGB illumination with advanced lighting effects and supports SteelSeries GameSense, providing reactive illumination to in-game events such as low ammo, health, kills, cooldown timers and more," says SteelSeries.
ALSO READ: AMD remains the king of PC gaming value with Radeon RX 500 series graphics cards
The company further says, "In addition to the millions of colors and lighting effects, the QcK Prism also supports SteelSeries Prism Sync. Gamers can create dynamic multi-color lighting effects between the QcK Prism and all other Prism-enabled gear, including the Arctis 5 headset, Rival 700 mouse and Apex M800 keyboard. The QcK Prism was made with a game-tested design. Unlike all other RGB mousepads, the cable housing is positioned out of the way, on the left side, where it will not catch a gamer's mouse cable."
This slideshow requires JavaScript.
I know what you are thinking. Brian, why does a mousepad need to be illuminated? The answer is quite simple — it doesn't. This is a luxury item, and that is totally OK. Look, some people take pride in their gaming setups, and this pad can add a fun and unique aspect. It is particularly neat that you can sync the lighting — using Windows software — with other SteelSeries products so that it all matches.

With that said, the product is not just a novelty. Having two surfaces from which to choose — cloth and plastic — means there is some substance here. You see, the surface can have an affect on how your mouse will both track and glide.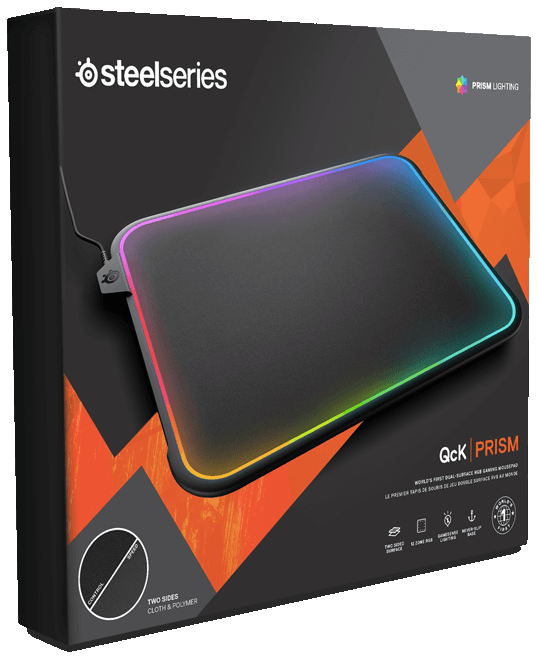 If you want to buy the SteelSeries QcK Prism dual-surface RGB illuminated premium gaming mousepad, it can be yours today for $59.99. Yeah, that is a lot of money, but if you are the type of person that takes pride in your gaming PC, and you want some unique styling, it might be totally worth it. I dig it.
What do you think of this mousepad? Tell me in the comments.