Samsung Pay was released for consumers in the UAE six months ago, and last week Apple followed suit by making Apple Pay available in the UAE as well. Both these services allow the user to pay at thousands of locations using their Galaxy smartphones or iPhones. 
We compared Samsung Pay to Apple Pay to find out which one was easier to set up, which banks were supported, and, where you could use these services. That last one was a bit tricky to measure since there are thousands of places that accept both. We'll get into how we decided to test that later, but let's start by talking about which devices support these platforms.
Which phones do Samsung Pay and Apple Pay work with?
Samsung Pay is available on the Galaxy S7 and Galaxy S8 devices as well as the Galaxy S6 edge+ along with Galaxy Note 5 and Galaxy Note 8. Also supported are 2016 and 2017 versions of Galaxy A5 and Galaxy A7 models as well as 2017 model of Galaxy A3. On the wearable side, it works with Gear S3 and Gear Sport. 
The total number of devices that work with Samsung Pay are twelve phones and two wearables.
Apple Pay is available on the iPhone SE, the iPhone 6 and 6 Plus, the iPhone 6s and 6s Plus, the iPhone 7 and 7 Plus, the iPhone 8 and 8 Plus, and, the iPhone X. All three generations of Apple Watch are also supported as well as any Mac that is 2012 or newer.
The total number of devices that work with Apple Pay are ten phones, three wearables and a lot of Macs.
Looking at the total number of devices supported by either platforms, Apple Pay pulls ahead of Samsung Pay.
Which banks support Samsung Pay and Apple Pay?
What you need to be clear about is that Apple and Samsung are not financial institutions. Instead they are solutions that enable you to use your bank's debit or credit card through your phone. 
Not all banks are supported by either platform but we have listed the banks that are currently working on these platforms as of late October.
Samsung: ADCB, Emirates NBD, HSBC, Mashreq, NBAD, RAK Bank, Standard Chartered
Apple: Emirates NBD, HSBC, Mashreq, RAK Bank, Standard Chartered, Emirates Islamic
Samsung Pay supports one more bank than Apple Pay at the moment and from what we've heard, two more banks are joining by the end of November. This puts Samsung Pay in the lead with the number of supported banks.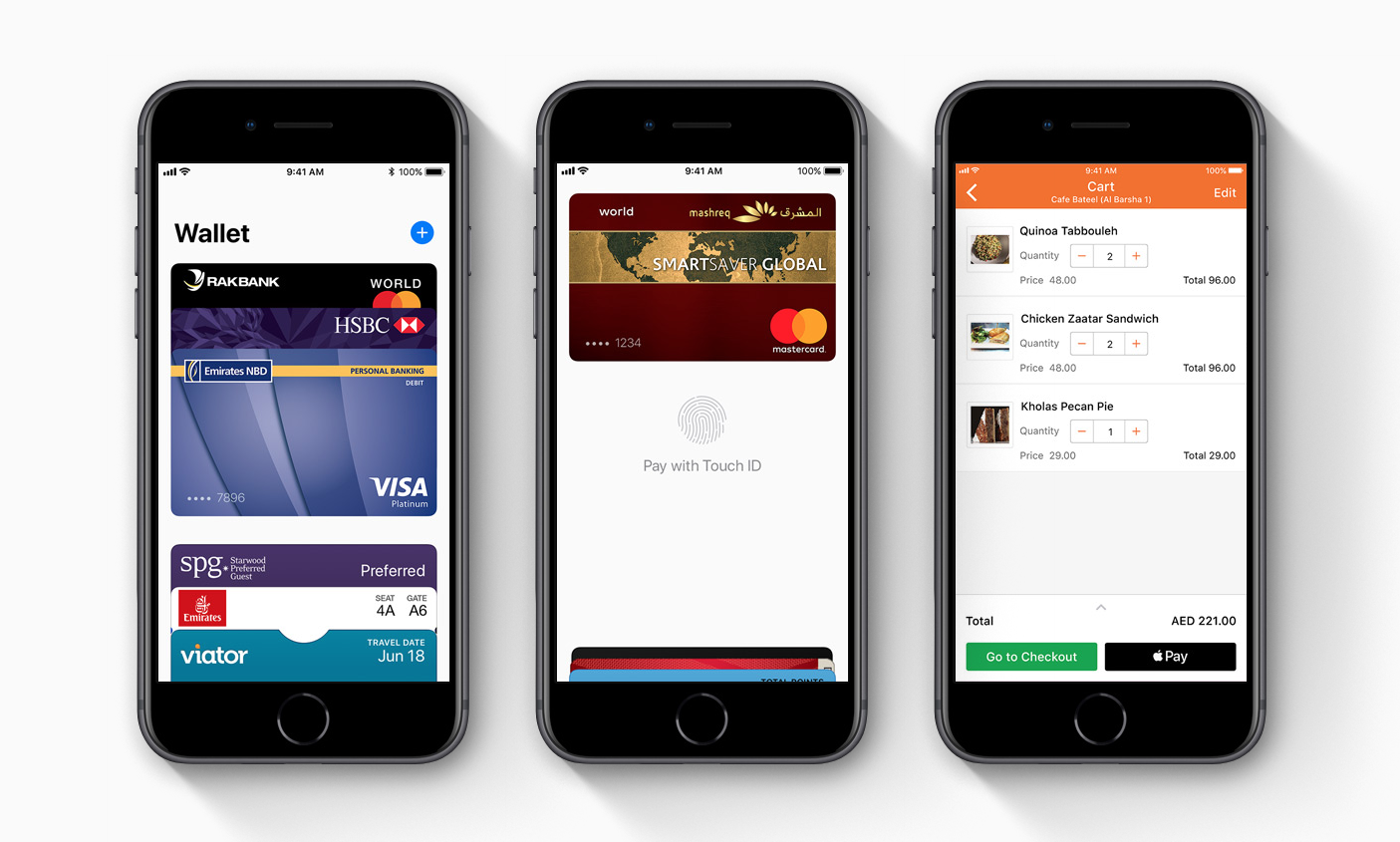 Setting up Samsung Pay and Apple Pay, and their respective apps
The setup process is fairly easy for both of these platform – just make sure your phone is updated to the latest OS. You need a Samsung account to use Samsung Pay or an Apple account to use Apple Pay. The process of adding a bank's card is similar in both.
On the iPhone, you launch the Wallet app and proceed to add a card. You can then scan the card using the camera or type out the details manually. Once you have added the card, the bank sends you a verification code that's needed to complete the process. When your iPhone is set up, Apple also lets you set up your Apple Watch if you have one that is already paired with the iPhone.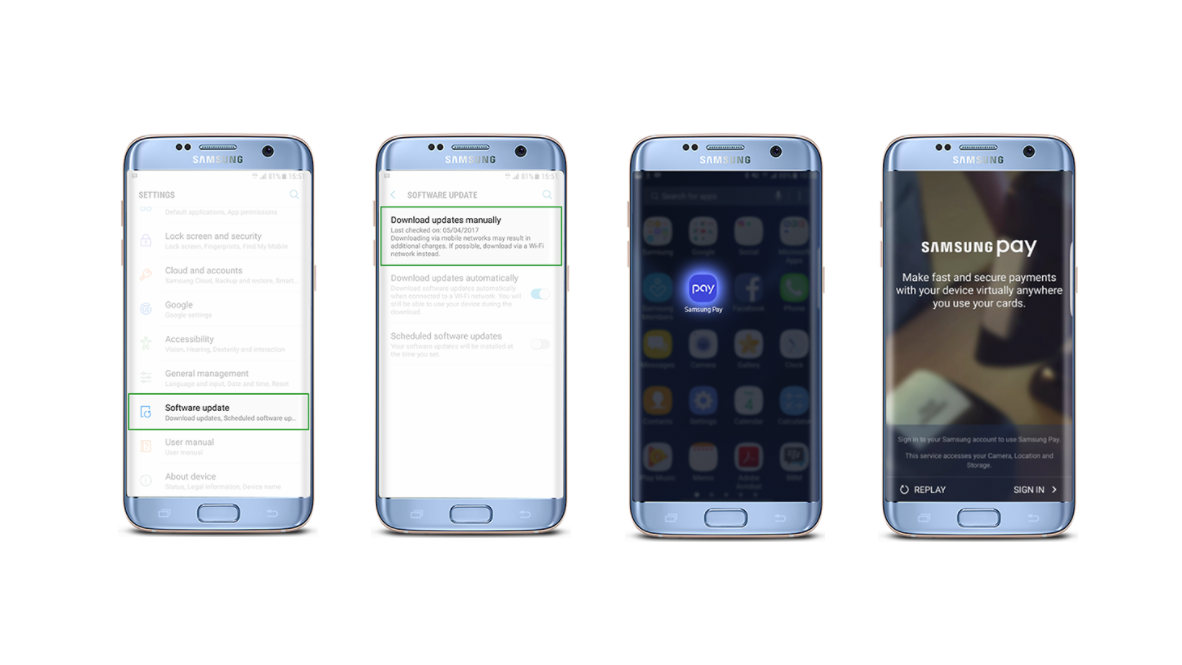 On your Galaxy phone, the process is fairly similar. You open up the Samsung Pay app and add your card using the camera or typing it manually. Samsung gives you one additional option which is to tap your card on the phone if your card is equipped with NFC chip. Once you card is added, you verify it with your bank.
Following the card setup, Samsung doesn't automatically let you set up your Gear Watch – you'll have to separately do that instead. However, aside from your bank card, the Samsung Pay app also allows you to add loyalty cards from the likes of Emirates airlines or the many supermarkets present around Dubai. The Samsung Pay app also has a section for ongoing promotions and vouchers encouraging its usage. 
Although the setup process of adding a bank card is similar on both Apple and Samsung devices, we prefer Samsung Pay because of the versatility of the app allowing you to store loyalty cards as well as learn about promotions and receive vouchers.
How it all works
The concept behind using Apple Pay or Samsung Pay is that you're using your phone for transactions that you'd typically pull your wallet out for. Considering how a mobile phone has become an essential part of our lives, these payment services could potentially make the wallet go in the same direction as dedicated music players or point and shoot cameras.
Although both services sound similar in the way they work, Samsung has an upper hand because it supports NFC and MST technologies, whereas Apple only supports NFC. This technically makes Samsung Pay work across a much larger number of credit card processing terminals. Here's one example of that: when you're paying with your credit card, there are two ways a transaction can be initiated. The first method involves the cashier firing up the terminal, putting in the amount you need to pay and then swiping or inserting your credit card to complete the transaction. The second method used by some of the older machines involves the cashier first swiping your card and then entering the amount and completing the transaction.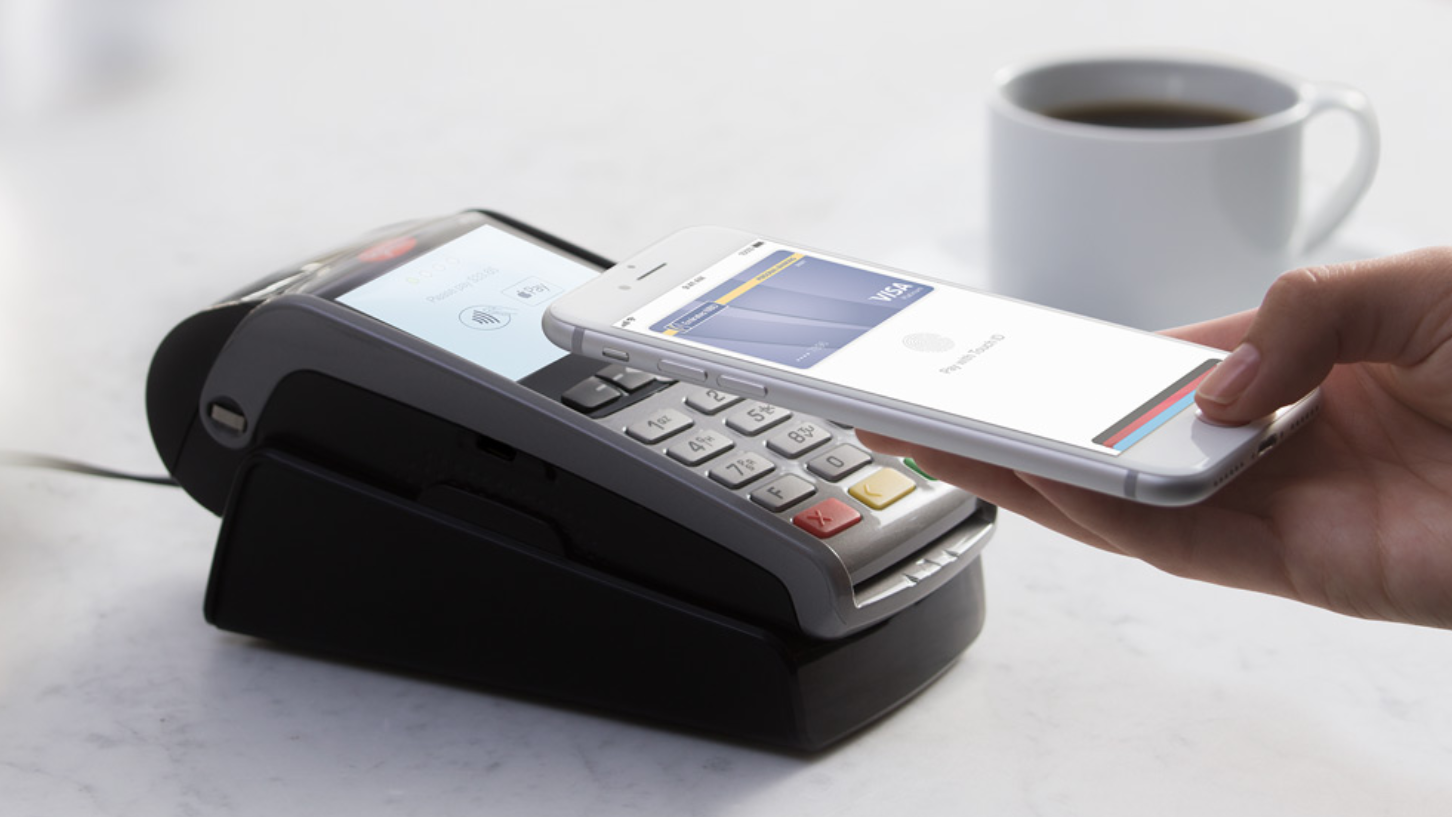 In our tests, Apple Pay can only be used with the first method where the transaction is initiated by the cashier and you tap to complete it. In other words, you can't initiate the transaction using Apple Pay. Samsung Pay, on the other hand, works in both instances. You can tap on the side of older terminals using MST which makes the terminal think that a card has been swiped and the cashier can then complete the transaction.
Considering the number of old machines we have come across during our testing of Apple Pay and Samsung Pay, we believe Samsung is ahead of Apple when it comes to the number of places that accept either of these solutions.
Putting it to test: Samsung Pay vs Apple Pay
There are thousands of places where both these payment solutions would work and it would be impossible for us to test these services at every one of these places. Instead, we decided to use it at places that would be a part of our daily lives and picked two members from our team:
Nick Rego uses a Samsung Galaxy S8 as his primary device and was tasked with testing Samsung Pay, while Sam McCluskey has an iPhone 7 and was tasked with testing Apple Pay. Both were asked to go about doing what they would normally do in their everyday lives and use their payment platforms for five transactions each.
Nick's experience of using Samsung Pay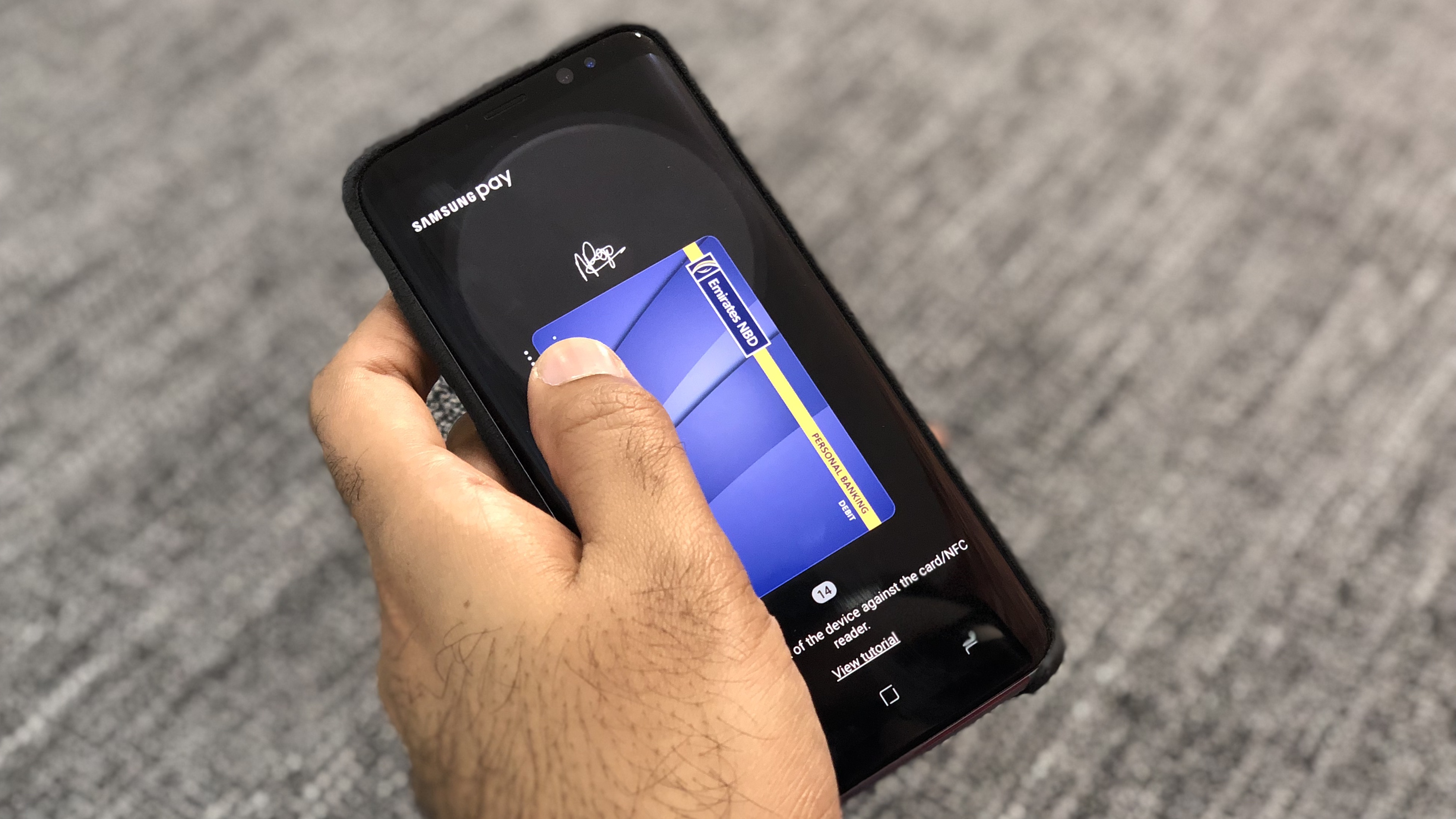 Nick kicked off his trial with Samsung Pay at a cafe near our offices. A simple croissant and coffee was his fuel for the day and he had no issue tapping his Galaxy S8 on the card reader to complete the transaction.
Lunch was next on the agenda with a similarly positive experience at the lovely Matto Italian restaurant in Business Bay.
Nick's final stop for the day was Spinneys in Motor City, where a successful tap of the Galaxy S8 at the cashier's till allowed him to pay for his groceries.
The next day we needed to fuel up a car we were reviewing and so Nick rolled into a petrol station. While we've gotten accustomed to handing out bank cards for swiping, we didn't feel quite the same when handing over our phone to make a payment, so we just ended up quickly popping out of the car to tap on the card reader and pay for our fuel. For this transaction, we also had to sign the receipt, possibly because the card reader was an older model.
Nick's last treat was dinner and drinks with a few friends in the Marina at Pier 7, and this was about the only time where he had to explain to the waiter what Samsung Pay was when it came to settling the bill.
Samsung Pay score: 5/5
Sam's experience of using Apple Pay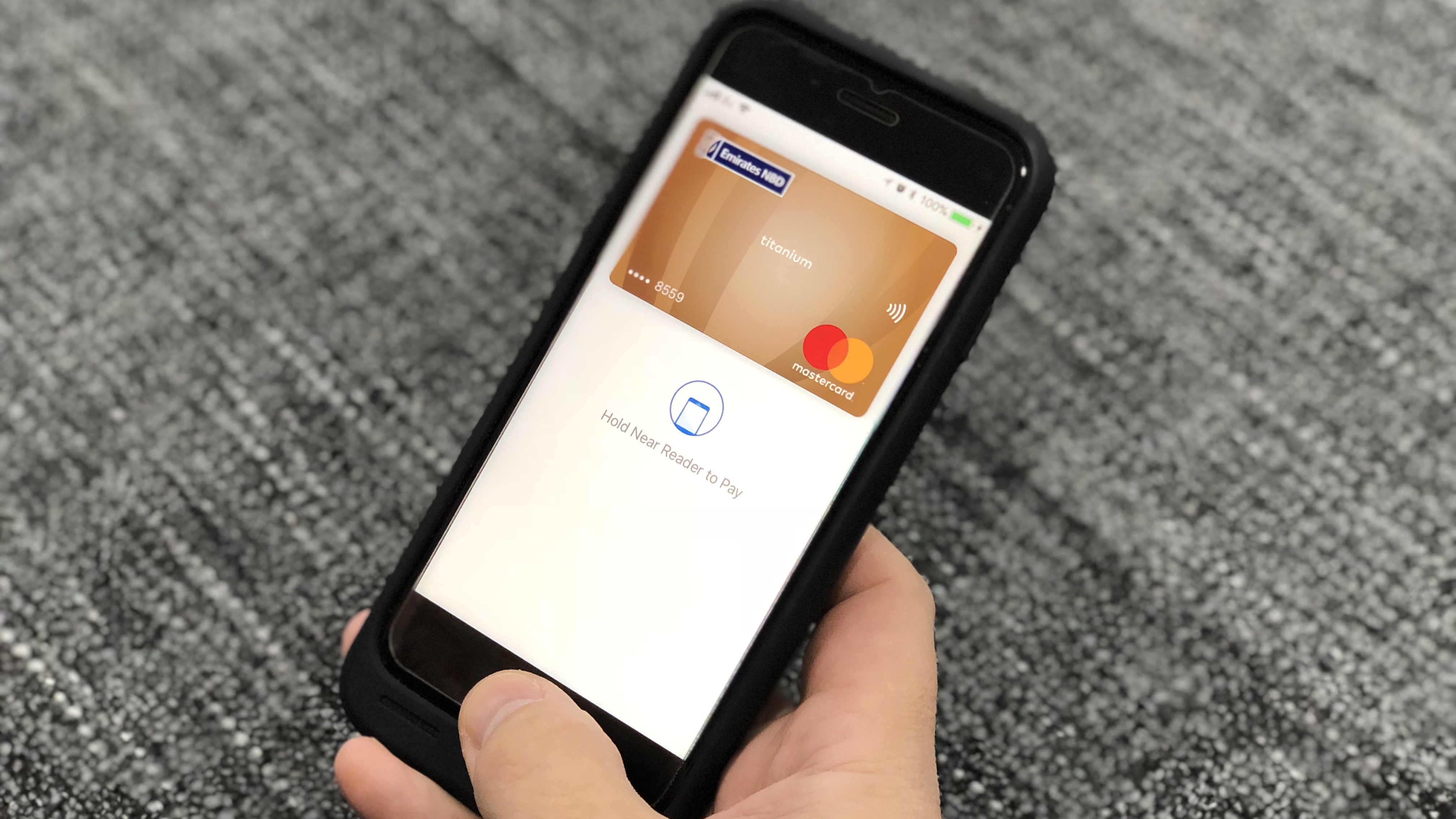 Sam's car was in a dire need of a wash and the first place he decided to try Apple Pay was at his neighbourhood car wash where he has used his debit card before. After three tries, Sam gave up and pulled out his debit card to pay.
The next place Sam tested Apple Pay was at his local Enoc petrol station and once his car was filled up, he walked over to the card reader. The attendant entered the pump number, some pin code and vehicle registration number following which the terminal prompted to insert a card. Sam tried his iPhone from every angle he possibly could but could not get Apple Pay to work.
While he was unsuccessful with his first two attempts, the third time finally worked when he headed out to catch up with a friend at Tim Hortons. The cashier entered the amount and Sam proceeded with his iPhone when asked to insert his card to successfully complete the transaction.
The following day Sam made a trip to Choithrams and picked up some groceries and used Apple Pay on his iPhone without any issues by just holding it over the card reader when asked to.
Sam's final use of Apple Pay was when he woke up on the weekend and impulsively decided to get himself a pair of Birkenstock shoes from Mall of the Emirates. The cashier mentioned that he had received an email earlier notifying about Apple Pay but wasn't sure how it worked. Sam was happy to educate him and walked out with his new shoes charged using Apple Pay. 
Apple Pay score: 3/5
Based on random usage, we found Samsung Pay to work at more places than Apple Pay. This wasn't much of a surprise considering Apple Pay only supports NFC based payments whereas Samsung Pay supports both NFC and MST technologies, making it work at a lot more places with older card terminals.
Samsung also currently has a lead with the number of banks supporting Samsung Pay, which is expected to further widen by the end of the month when two more banks are expected to join in. That being said, we're positive that Apple will also increase the number of banks it works with over time.
While Samsung Pay wins over Apple Pay, we're quite excited about both these solutions being officially available in the UAE. Both these players have helped with the adoption of smartphone usage across the world and with their respective payment services, will help push digital payments as well.