Every PC needs a small selection of essential software, including antivirus, a web browser, and a text editor. Windows 10 comes with a trial of Microsoft Word as standard, but once that's expired you'll need to either buy an Office 365 subscription or look for an alternative.
Thankfully, there's no shortage of free text editors available to download – whether you need something basic for simple documents, or a powerful program that's packed with all the same features as Microsoft's software.
Here, we've gathered together the best free text editors for Windows. Some of these are part of full office suites, which also include tools for creating and editing spreadsheets and slideshows. If those are important to you too, you might be interested in our guide to the best free office software.
Have we missed your favorite free text editor? Let us know in the comments below.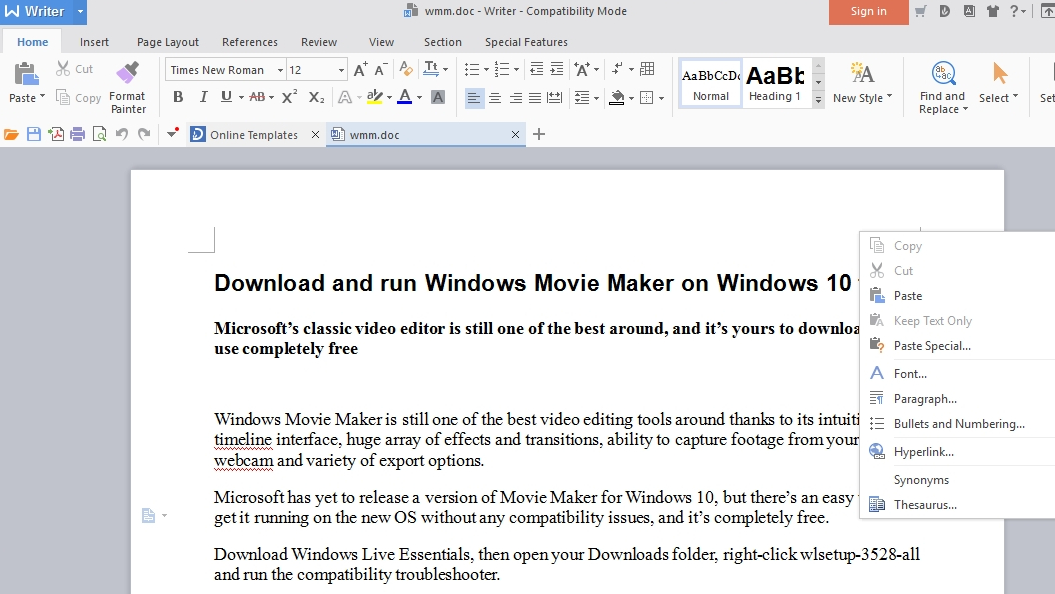 1. WPS Office Writer

Whatever kind of document you're writing, this powerful text editor has everything you need
WPS Office Writer is much more than a simple text editor; it's a fully-fledged alternative to Word, suitable for any writing task once your trial of Microsoft Office has expired.
WPS Office Writer comes with a great selection of templates for everyday tasks like letters and job applications, plus pre-defined text formats. It's easy to add tables, images and other non-text elements, and for larger projects, page numbering, footnotes and tables of contents can be created in a couple of clicks.
WPS Office Writer even comes with 1GB free cloud storage, so you can make quick backups of your documents and share them across devices easily. There are versions of WPS for Android and iOS, so you can easily continue writing and editing when you're on the move.
The only drawback of WPS Office Writer is its lack of support for the Open Document Foundation Text (ODT) format, which many other free text editors use by default. That means you might have to convert existing documents if you're switching from another program.
Download here: WPS Office Free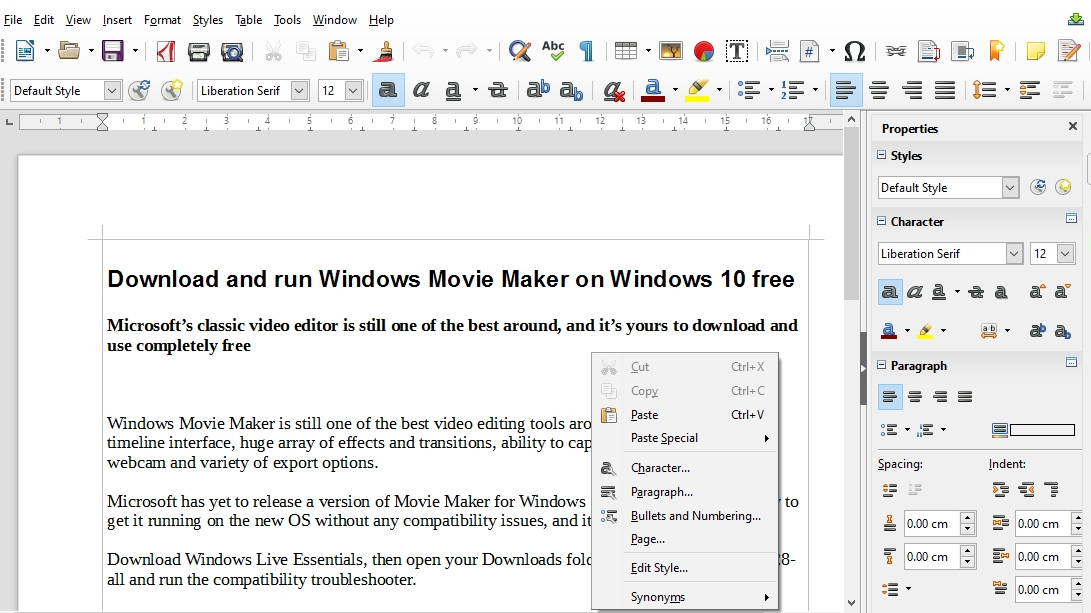 2. LibreOffice Writer

An open source text editor that's almost infinitely expandable via user-created extensions
Another heavy-duty text editor, LibreOffice Writer offers everything you need for everyday personal, business, or academic writing. Its interface is a little more dated than WPS Office Writer's, but it looks and works almost exactly like a slightly older version of Microsoft Word, so you won't be left wondering where to find essential features.
LibreOffice Writer is packed with tools already, but you can expand it still further if you think anything is missing. As an open source project, LibreOffice's source code is freely available online for anyone to experiment with. This has led to the creation of a huge array of plugins and templates, which you'll find in the official extensions library. 
LibreOffice Writer's main drawback compared to WPS Office and Microsoft Word is the lack of cloud support, but you can easily use it together with a Dropbox account for the same effect. There's even a portable version of LibreOffice, which you can use on any PC without installing it. Unfortunately it's too large to fit on a standard USB thumb drive, but you could keep it on an external hard drive or SSD, or your preferred cloud storage service.
Download here: LibreOffice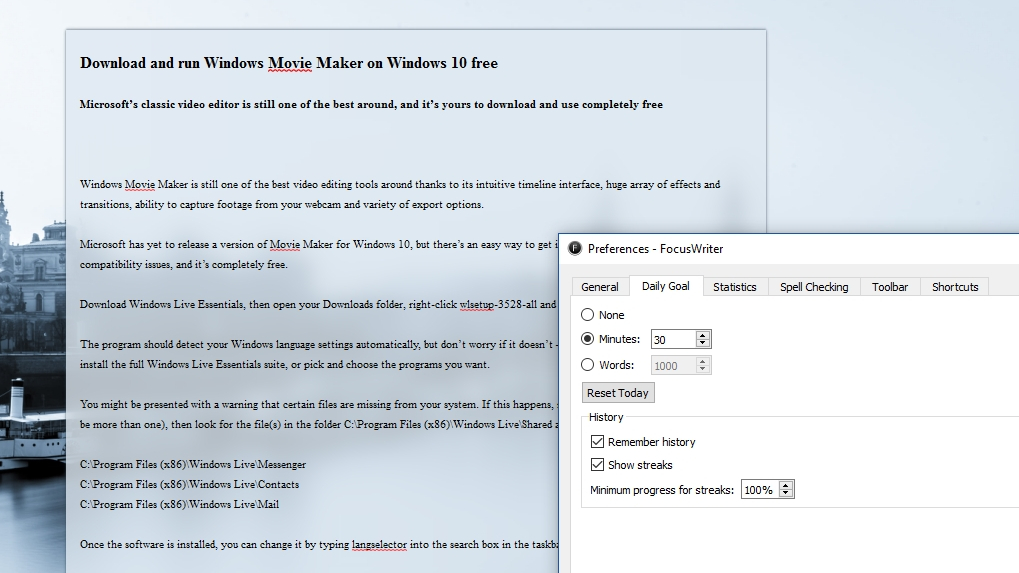 3. FocusWriter

A clean, distraction-free text editor that's a great choice for creative writing
If you're the type of writer who prefers to be guided by your imagination rather than a strict plan, FocusWriter could be the perfect text editor for you.
There are no templates, and you can'd add charts, tables or other media; this text editor is all about words. That doesn't mean it's short on features, though – developer Graeme Gott has packed it with thoughtful tools and options that will help you work more efficiently. These include daily goals with alerts when you reach your target, spell-checking (optional, in case you find it a distraction), and auto-save to prevent you accidentally losing hours of work in the event of a system failure. There are also live statistics, including word and character count – a feature that's surprisingly rare in free text editors. Best of all, there's an option that adds satisfying typewriter sound effects each time you press a key on your keyboard.
You'll need a different tool to format your work, but FocusWriter is a brilliant text editor for creating your first draft.
Download here: FocusWriter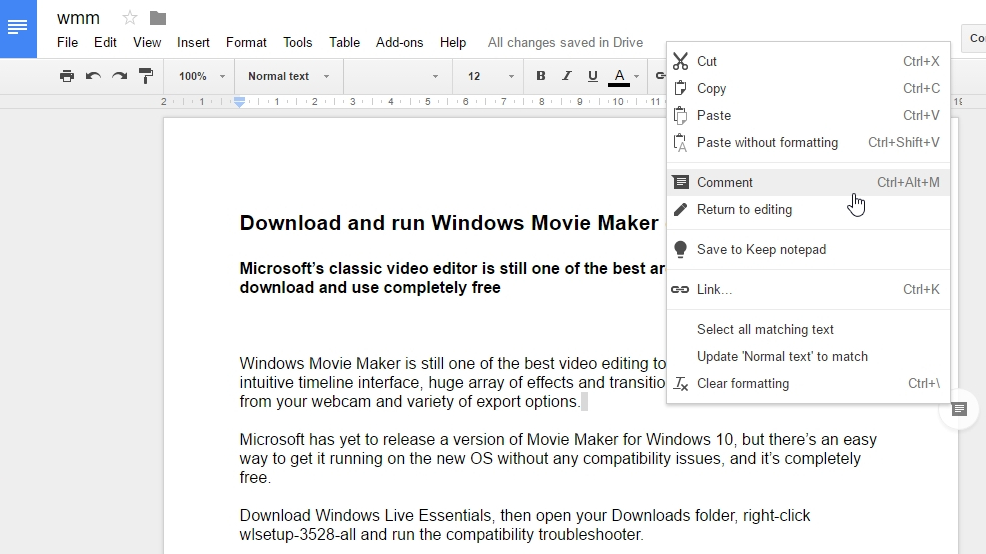 4. Google Docs

An online text editor that's ideal for collaborative work, with suggested changes and comments
If you often use multiple devices (desktop or mobile), a cloud-based text editor like Google Docs could be the most practical option. Uploading your existing work to Google Docs can be a bit of a hassle, but creating new documents is simplicity itself, and there's a good range of ready-made templates.
One of Docs' best features is the ability to import data directly from Sheets – Google's Microsoft Excel analog. You can also import charts, which is a very useful feature for reports, and they will be updated automatically to reflect any changes made to the linked data.
Indeed, Docs is particularly good for business use. Most of its templates are designed for reports, minutes and project proposals, and its comments and change-tracking tools make it easy for several people to collaborate on one document. If multiple users are working on the same document, their cursors will appear in different colors, and their user icons will appear at the top right of the screen – a smart touch that helps avoid frustration or confusion.
Text documents can be saved to your Google account, or downloaded in a variety of formats, including DOCX, RTF, and HTML – though there's no option for plain text, which is unusual.
An internet connection is essential for Google Docs, but it saves your progress automatically and warns you if you go offline, helping reduce the risk of losing important work.
Try it online: Google Docs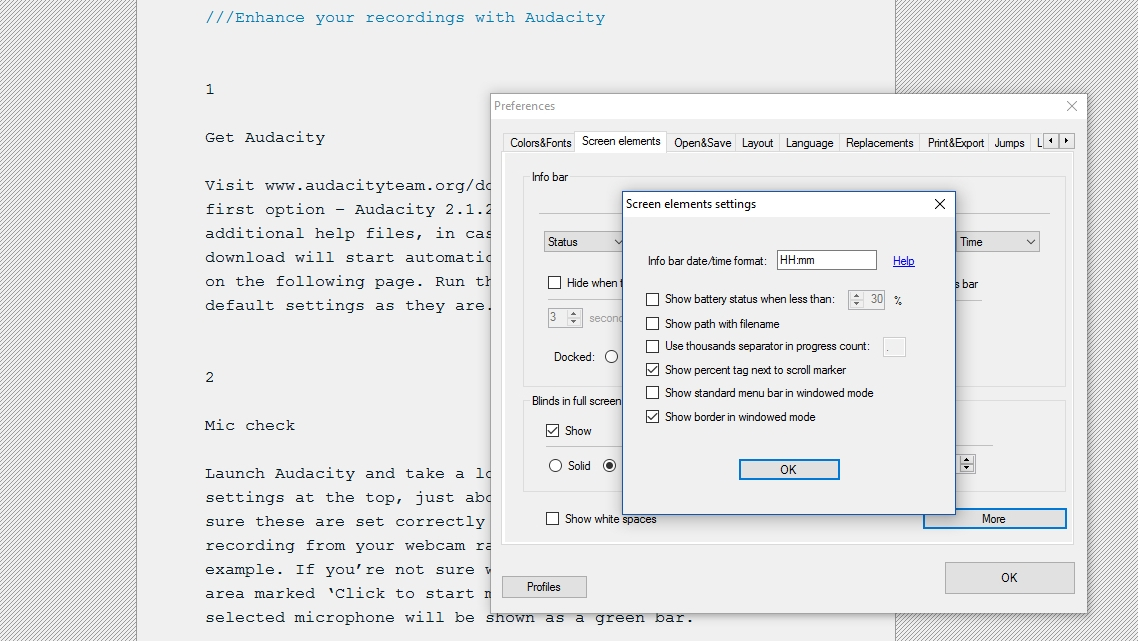 5. WriteMonkey

Fuss-free plain text editing, with dozens of timesaving features only a keypress away
In contrast to Google Docs, distraction-free text editor WriteMonkey only saves work as plain text, ensuring compatibility with whichever software you use for formatting and publication (whether it's a more fully-featured word processor, a publishing tool like Adobe InDesign, or a CMS like WordPress). You can copy chunks of text in a different format if necessary, which is a neat compromise.
WriteMonkey's initial appearance is stark, with no toolbars or icons – just a blank page and a blinking cursor waiting for your keystrokes. However, like FocusWriter, WriteMonkey is packed with productivity tools to keep creative writers on track. These can be accessed via a huge right-click menu, but WriteMonkey is best when you stick to keyboard shortcuts. Almost every function – including bookmarks (ideal for marking chapters and sections), plugins, progress checkers, and display preferences – can be triggered with a simple key combination.
The markup tools are also extremely handy, enabling you to apply formatting, create lists, add bookmarks, and insert rules without breaking your flow by reaching for your mouse. Like FocusWriter, WriteMonkey also offers a feature that emphasises keystrokes with pleasing typewriter sounds, turning your typing into a satisfying clatter. Ideal for completing a first draft, or preparing copy for use in another program.
Download here: WriteMonkey