Before discussing whether HopToDesk could be the best TeamViewer alternative, let us delve into understanding a few essential aspects of remote desktop software.
Remote Desktop Software would enable the user to connect and interact with any computer in another location flawlessly through the internet or an internal network. The software allows the user to experience and control a connected laptop or PC from anywhere as long as both are connected to the internet. The software has been helpful for various things such as demonstrations, technical support, and collaborative work.
A significant difference between screen sharing and Remote Desktop Software would be the former enables users to share their screens for web conferencing and presentations. Alternatively, a remote desktop caters to a complete set of features for remote use. It has been deemed beneficial when tech support is away for official computer use or calls.
Significant Differences BetweenHopToDesk And TeamViewer
Let us delve into the pros and cons of both HopToDesk and TeamViewer to understand the better option of the two.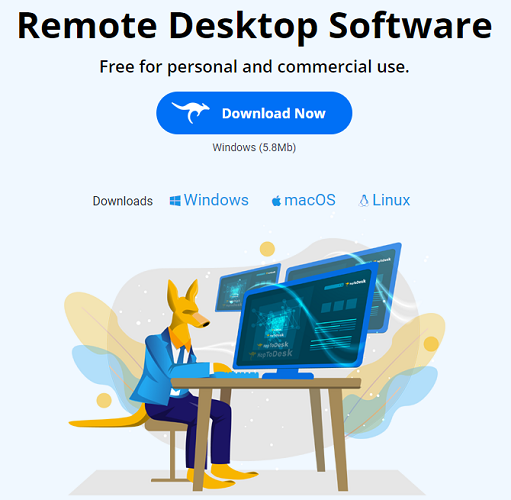 Let Us Begin With The Benefits And Drawbacks Of Using HopToDesk:
Benefits
● Free of charge
● High-end security with end to end encryption
● Easy to download and use without requiring any account
Drawbacks
● It lacks a mobile application, but it is in progress
● You have to email them for support, as they lack mobile support
● Restricted features
● Lacks various kinds of offers
Let Us Delve Into The Benefits And Drawbacks Of Using Time Viewer:
Benefits
● It has been an established and reliable brand worldwide
● It offers the ease of support for mobile applications
● Business users could make the most of the brand
Drawbacks
● User's data is not protected, the software monitors the connections along with the data or usage
● The cost is significantly higher than most competitors
● It is free for restricted use only
Features To Look For In The Best Free Remote Desktop Software
The best free remote desktop software should enable the users to provide remote control access to their respective devices &computers and share their screens. Unlike several available similar tools, the best remote desktop software should be free for business and personal use. It should cater to you with end-to-end encryption to meet your specific needs.
It should cater to you with screen sharing, live chat, file transfer, remote control, and more. Apart from these basic features the remote desktop software offers, it should provide the user with direct IP access, and IP allows listing support.