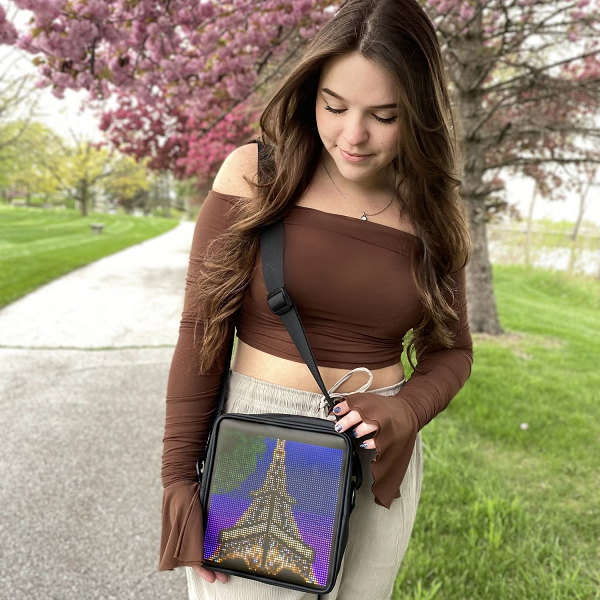 When one decides to buy a bag, there are many things that come rushing to your mind like design, quality, durability and many other such factors. For those of them who are finding it difficult to use one particular design bags for prolonged period of time, there is some interesting BIBU bag model that has hit the market and has become already quite popular. BIBU LED Bag has garnered widespread attention from all corners. This particular BIBU LED Sling Bag comes with the facility to uploading favourite images, video or text on top of it so that you will have a completely different feel carrying it with you each day. It is controlled by Bluetooth application for both iOS as well as Android.
Waterproof
One common problem that people face when carrying bags is that it may get damaged when it rains thereby causing you to feel low about wasting your money. This is not the case with BIBU LED Bag as it is comes across as a waterproof bag, thereby is considered to be the best value for the money spent. You not only get to look stylish but also be comfortable using the bag without any sort of hindrances. This is why more number of people going for this BIBU Lab bag now. LED Sling Bag is a huge hit as it comes across as a unique concept but one needs to be extra careful about choosing the right kind one that best suits them. The bag scores both in fashion as well as usability. It has many compartments so that you can store a lot of things without any difficulty.
BIBU Led Sling Bag Max
It comes across as the best of models as you can daily change the screen and look of your bag as per your mood. One can also change and update the bag design according to their outfit which many people absolutely love to do. BIBU Studio ensures to provide you with many latest designs to choose from therefore making your work much easier. The trendsetting scores in a lot of areas, be it fashion, usability and durability. It has many compartments so that you can store a lot of things without any difficulty. The best about the product is that it comes with an easy return policy and a 3 days trial period. If you want to buy a bag that has got all the features you want then this is the one to go for.